Fantastic Fest Review: Alleluia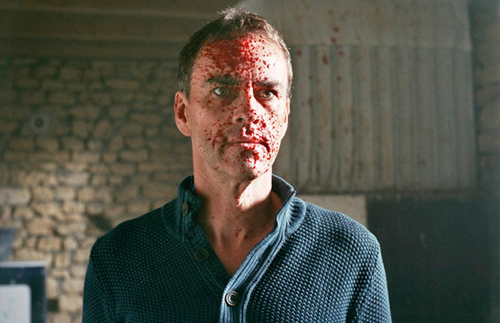 Freely adapted from the "stranger than fiction" true tale of Martha Beck and Raymond Fernandez (aka the "Honeymoon Killers" of the late 1940s), the movie Alleluia is a dark and twisted love story comprising four chapters titled for its female characters and centering around a specific crime. This is the second film in Fabrice du Welz's trilogy about the Belgian Ardennes -- the first being the 2004 horror film Calvaire.
Gloria (Lola Dueñas) lives a fairly solitary life with her young daughter, with her primary companions ibeing the corpses that she prepares as a nurse in the morgue at a local hospital. Her friend Madeline (Stéphane Bissot) convinces her to go out with the handsome and charismatic Michel (Laurent Lucas), who she has found through an online dating site. It is quickly revealed that Michel is even worse than the men your friends warned you about on the Internet -- not only is he a gigolo taking money from women, but he is also psychotic.
Michel practices black magic and uses lovemaking skills learned from an incestous maternal relationship to lure his lovelorn victims into his web of lies and deceit. Once he has what he wants -- sex and money -- he moves on to his next scam, leaving broken hearts in his wake. Gloria seems destined for the same fate, but her obsession with Michel is so great that she tracks him down and discovers his true criminal identity. How she accepts and fuels his scams leads both down a dark and violent path, leaving more than broken hearts behind.
Alleluia may seem predictable at first, but by the first chapter's end we quickly learn that all may not as it seems regarding the true protagonist. Michel is well matched by Gloria, whose characterization is well fleshed out by Weiz and co-writer Romain Protat. Bolstered by Weiz's direction, the performances by Dueñas and Lucas are phenomenal as they are fully immersed in their characters. The story exudes sensuality -- not just from Michel and Gloria, but from characters that would seem less sexual such as the elderly widow Marguerite.
The cinematography, production design and score all set the dark and often sensual tones of this captivating thriller. Dark comedic moments jump out intermittently to settle viewers, as gauche as it may seem when death blows are precisely dealt at lightning speed. One brilliant scene demonstrates the fine line between comedy and horror, as Gloria's stifled laughter is mistaken for sobbing by an unsuspecting widow.
The tragic end of Alleluia might seem a bit unclear, yet is well suited to this psychopathic journey. I highly recommend the movie for fans of thrillers and dark comedy. Meanwhile I will be busy deleting my online dating accounts after watching this cautionary tale.