Sundance/Slamdance 2015: Austin and Texas Connections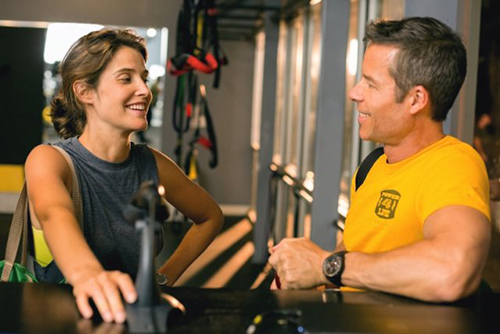 The Sundance Film Festival begins tomorrow -- Thursday, January 22 -- and runs through Saturday, February 1. Although Texas isn't as heavily represented as the last two years I've attended, I see plenty of Texas-related content to choose from.
Local filmmaker Andrew Bujalski (Computer Chess) wrote and directed Results, which was shot in Austin and stars Cobie Smulders and Guy Pearce. The comedy is about two incompatible personal trainers who experience more challenges than usual from a wealthy client's demands.
Texas actor Tye Sheridan (Mud, Joe) continues his run of Sundance appearances with a pair of movies premiering at the festival this year. Sheridan co-stars in the historical drama Last Days in the Desert, an addition to the trials and tribulations of Jesus' 40 days in the wilderness. Jesus (Ewan McGregor) struggles with the Devil for the fate of a family in crisis that he encounters in the desert.
Sheridan also portrays Peter Mitchell, one of the mock prisoners in the psychological drama The Stanford Prison Experiment, which was written by Tim Talbott and is based on real-life events. Former Austinite Jas Shelton (Cyrus) is director of photography -- he previously worked with director Kyle Patrick Alvarez on C.O.G., which premiered at Sundance in 2013.
Shelton also worked as cinematographer for Togetherness, a new HBO original series created by Jay and Mark Duplass that debuted earlier this month. The Duplass brothers will be at Sundance to promote the series, and will participate in a panel discussion for "The Golden Age of Story."
Mark Duplass was the executive producer for the family-focused comedy The Overnight, directed by Patrick Brice. Duplass co-starred in Brice's directorial debut, the comedic horror film Creep (Mike's review), which premiered at SXSW in 2014. The Duplass brothers also executive produced Tangerine, a comedic drama about prostitute Sin-Dee who is in search of her pimp boyfriend after discovering that he was unfaithful while she was in jail.
Directed by another set of filmmaking brothers, Turner Ross and Bill Ross IV (Tchoupitoulas, 45365), Western documents the challenges and conflicts between two border towns once divided only by the Rio Grande -- that of Eagle Pass, Texas and Piedras Negras, Mexico. Fifth-generation rancher Martin Wall is at odds with incumbent mayor Chad Foster as they face the challenge of modern times with cartel violence threatening their livelihoods. Dallas filmmaker Daniel Laabs (Easy) did some camerawork for the documentary.
The documentary Beaver Trilogy Part IV, which also premieres at Sundance, was produced by the team behind Hellion including Tanner Beard, Jonathan Duffy, Kelly Williams and Don Swaynos (Cinema Six, Pictures of Superheroes). Directed by LA-based Brad Besser with sound by Austin's Stuck On On, Beaver Trilogy Part IV chronicles the story behind the cult film. The doc is narrated by actor Bill Hader, who also had an uncredited cameo in a previous Williams/Swaynos-produced feature shot in Central Texas.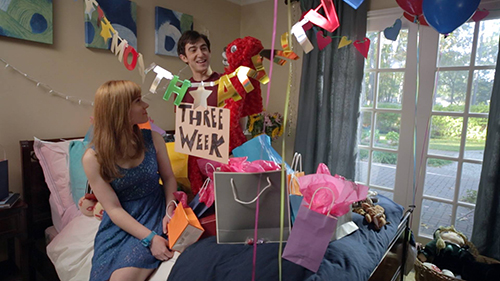 Houston-shot comedic horror film Clinger premieres at the Slamdance Film Festival on Saturday, January 26. This quirky movie written by Gabi Chennisi (Dark Water) and directed by Michael Steves (Hello, Cruel World) is a satirical play on romcoms and will have audiences chuckling -- check back for my review after its debut.
Tips for Attending Sundance
Any festivals can impact your budget, but the handy "How to Fest on a Budget" by Sundance Institute's editor Nate Von Zumwalt of has some useful advice. I'm staying near Prospector, so I enjoyed this tip from DFW-area filmmaker David Lowery (Ain't Them Bodies Saints) he shared with Zumwalt --
"If you are vegan or vegetarian, one of the best places to eat is Squatters, which is across from the Yarrow and which has a good vegan breakfast, among other meat-free options," says Lowery. "There is also Booster Juice, near Prospector and Festival HQ, which has vegan baked goods and soups.."
Can't make it to Park City? You can still fest from home by checking out Sundance's "How to Fest from Home: Live Coverage, Social Media and More" which includes links to live panels and events. Also be sure to follow Slackerwood coverage here or via Twitter via @snax and @slackerwood.
Know other Texas-related films that I may have missed from the hundreds of films premiering this year at Sundance and Slamdance Film Festivals? Leave a comment below, and we'll add it in.