SXSW Review: Creep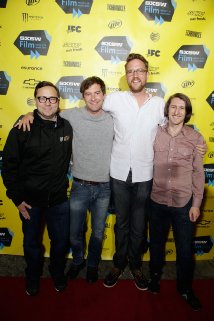 Jason Blum must be one of the busiest men in Hollywood. With 36 credited projects already, and another 23 currently in production, Blum has proven himself not just hardworking, but also with a keen eye for horror films that use the simplest elements to reach the heart of what unsettles us and play on our innermost fears. Mark Duplass is a veteran of the mumblecore genre, which eschews narrative scripts and focuses on development of character and natural dialogue.
Put these guys together with writer/director Patrick Brice, and you get Creep, a microbudget hackle-raiser as scary as Paranormal Activity.
Brice stars as Aaron Franklin (one wonders if this is a tribute to Franklin Barbecue), who answers a Craigslist ad placed by Josef (Duplass) for a videographer to spend a day shooting his life. The creepiness begins immediately when Aaron arrives to find that nobody appears to be home, and the house and grounds have an ominous feel.
As Aaron prepares to leave, Josef silently appears in a startling reveal that sets the tone for the rest of the day. Josef, with his habit of appearing suddenly, often with an accompanying "rawr" or stomping thump, delights in keeping Aaron -- as well as the audience -- off-balance. Each scare is immediately explained away by the apologetic Josef, whose off-putting actions sound almost completely reasonable when taken in context.
During a Q&A with Brice and Duplass following the Creep premiere, they described the process in which the film evolved as they would shoot and edit scenes, show them to friends and then return to the rented cabin for additional shooting, bringing the script revision process off paper and into the camera. They populated the set with as many lamps as possible to reduce the need for extra lighting equipment, which also allowed for a natural, believable look for the handheld cinematography.
The Josef character developed by Duplass and Brice evokes different reactions from people sitting side-by-side in the audience. One may be cringing in terror as her neighbor is laughing heartily. This is the goal of the unsettling plot, which constantly shifts between moments of tense guardedness and comic eccentricness.
Creep is not flawless. Some of the jump-scare setups became repetitive, but as a spine-chilling character study, the movie is undeniably effective.
Austin connections: Co-writer/actor Mark Duplass is a former Austinite. Local filmmaker R. Zane Rutledge supplied video effects.
Creep is playing once more at SXSW on Friday, March 14 at 10 pm at the Topfer Theatre at ZACH.