Movies This Week: December 25-January 1, 2015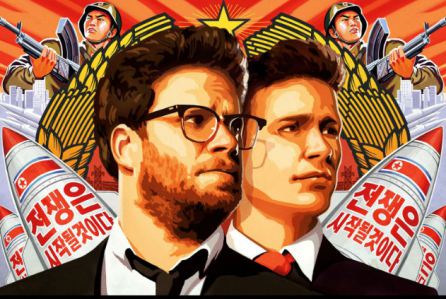 Six new releases are now vying for attention in the marketplace for Christmas. It was down to five, but now that Sony has authorized a last-minute limited release for The Interview, area theaters are absolutely packed with options. In terms of holiday titles, quite a few specialty screenings that were scheduled for Alamo Drafthouse Ritz have been scrapped because they added The Interview to Theater 1, but you can catch free daily Kid's Club screenings of Muppet Christmas Carol at the Alamo Slaughter Lane, Ernest Saves Christmas at South Lamar and Arthur Christmas (2D) at Alamo Lakeline each morning through New Year's Eve.
Aside from that, there aren't many rep screenings happening until the new year. The Ritz will still be offering Monday night's "Homo Arigato!" screening of Wild Combination: A Portrait of Arthur Russell, an award-winning 2008 documentary about the queer musician and are hosting their annual New Year's Eve feast for The Apartment in 35mm if you're willing to brave 6th Street.
Movies We've Seen
Big Eyes - Even at his worst, Tim Burton's films usually have a great visual flair and interesting characters. For this true story, he teamed up again with the screenwriters from Ed Wood to tell the story of Margaret Keane (Amy Adams), an artist from the Sixties whose paintings were claimed by her husband Walter (Christoph Waltz) as his own. Elizabeth says "Burton's strong fascination and dedication to the artist's work is obvious, making Big Eyes one of his most deeply-felt films in years." Look for her review on Friday. (wide)
The Gambler - Perhaps the least intriguing of this year's wide holiday releases, Mark Wahlberg stars as (wait for it) a college professor who is in over his head with some not-so-nice gangsters because of his gambling habits. Director Rupert Wyatt (Rise Of The Planet Of The Apes) offers up some cool stylistic decisions and a nicely curated soundtrack, but I laughed every time Wahlberg was supposed to be teaching his students. The always-charming Brie Larson is unfortunately given very little to do but overact with facial expressions, because she has very little dialogue. If it weren't for some go-for-broke supporting performances from Jessica Lange and John Goodman, there would be precious little to recommend here. (wide)
The Imitation Game - Benedict Cumberbatch is earning a lot of Oscar buzz for his portrayal of British codebreaker Alan Turing. During World War II, he cracked the German Enigma machine that allowed them to send encrypted messages. The film doesn't seem to know what it wants to do with the information that Turing was secretly gay in a time where it was illegal. It feels as though they didn't want to alienate audiences by making it a major theme of the film and so it floats in and out of the storyline whenever it suits them. Keira Knightley gives a fine supporting performance, but it's Cumberbatch's film all the way. Marcie has our review and I think she liked it even less than I did. While she praises Mr. Cumberbatch, she felt "most of the cast seemed to be cookie-cutter replicas of characters they have played before: stale, expired, and certainly not fresh." (Alamo South Lamar, AMC Barton Creek, Cinemark Hill Country Galleria, Regal Arbor, Violet Crown Cinema)
The Interview (pictured above) - Local press screenings of The Interview were cancelled at the very last minute as Sony made the decision to pull the film from national release, but now it's opening in a very limited fashion today. The controversial Seth Rogen/James Franco comedy caught the ire of North Korea, but Sony has been shamed into not shuttering the picture entirely. The movie is now available on participating VOD platforms and also in a select number of theaters. Because this all unfolded within the last 48 hours, if the demand for the movie is strong, it should certainly add more screens by next weekend. Mike saw it at Butt-numb-a-thon earlier this month and says in his review that it's "a fun film, particularly owing to the talents of soon-to-be household name Randall Park as Kim Jong-Un and Diana Bang as the super-sexy People's Republic military leader Sook." (full daily showtimes at the Alamo Ritz, select shows also at Alamo Lakeline, Slaughter Laner and South Lamar)
Into The Woods - Rob Marshall takes on Sondheim's classic musical with great success. Featuring a glorious cast that includes Meryl Streep, Emily Blunt, Anna Kendrick and Chris Pine, Into The Woods is a dark and twisted fairy tale with terrific tunes and its tongue firmly in cheek. Debbie says, "Into The Woods is deeply rooted in the origins of fairy tales that have been sanitized for modern consumption, offering a wickedly inventive twist on classic stories in a lushly wrapped package of stellar performances and a masterful score." Look for her review this weekend. (wide)
Unbroken - Angelina Jolie's biopic of Louie Zamperini, an Olympian who endured 47 days adrfit in the Pacific Ocean after a plane crash during World War II before being captured by the Japanese Navy, is a powerful story of resilience and resistance. I reviewed the movie and praised star Jack O'Connell for his "emotionally raw and physically demanding career-making performance as Zamperini." Jolie does not shy away from brutality here (although the film still stays well within its PG-13 rating in terms of violence). While Unbroken takes us on a difficult journey, it's an inspirational one. (wide)