Review: The Imitation Game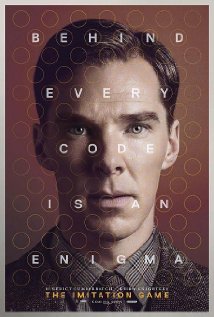 Although working at this year's Austin Film Festival had many great perks, one of the not-so-great parts was missing out on some of the highly-anticipated marquee films. This is why I jumped at the chance to see The Imitation Game, though I now see that maybe I didn't need to jump so quickly.
It's clear that Benedict Cumberbatch (famously known for his role on Sherlock) carries this film -- not just because the story focuses on his role as Alan Turing, but because his performance stands out amongst all of his famous castmates, including Keira Knightley, Matthew Goode and Charles Dance.
That said, it seems that Cumberbatch's snarky demeanor as Sherlock Holmes is what got him cast in this role. The Imitation Game seems a fitting title because his performance is not unlike the role he's portrayed for the last three seasons on Sherlock. If you're unfamiliar with the show, then perhaps you will not notice this similarity; being a big fan myself, it stood out almost instantly. In fact, most of the cast seemed to be cookie-cutter replicas of characters they have played before: stale, expired and certainly not fresh.
The story is strong, yet it doesn't know which theme it relies on. Focusing on Turing's famous crack of the Enigma coding machine during WWII, the film stays on course -- until it takes a few pit stops to reflect on Turing's struggle with homosexuality. Although it's a powerful performance, I felt confused on what emotion to resonate with throughout. It seems as if the filmmakers were taking on some sort of studio note to try and make Turing more sympathetic. Although it does achieve this, it feels forced.
It surprises me that The Imitation Game is making its debut on Christmas Day. Perhaps a marketing team felt that Cumberbatch and Knightly would draw in ticket sales, but the film itself doesn't have that grandiose feel most holiday releases have. It does seem that this role will probably draw some Oscar buzz for Cumberbatch -- it already seems to have drawn an 8.4 rating out of a scale of 10 on IMDb. Maybe I'm just a holiday release Scrooge; maybe a box-office Christmas miracle will happen after all.