Review: The Interview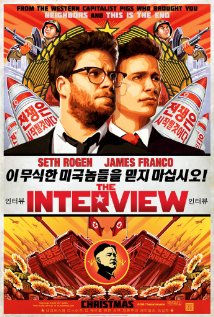 The great The Interview saga of 2014 has reached its apex. After the film was publicized, parent studio Sony Pictures found itself victim to the largest, most destructive and costly computer hacking operation in history. Emails, personal information of employees including social security numbers, and untold other secrets were not only stolen, but partially released by the culprits with a threat to do more damage if the movie was released. Last week, Sony caved to the major theater chains and cancelled the release, spawning innumerable conversations about free speech in the digital age.
And just before that, I got to see it along with 200-ish other attendees at Butt-numb-a-thon, the annual birthday party for AICN founder Harry Knowles where vintage films are celebrated alongside big Hollywood premieres and sneak peeks. The Interview played fifth in the lineup of 12 films, immediately after Paul Thomas Anderson's Inherent Vice. Directors Evan Goldberg (This is the End) and Seth Rogen apologized during their introduction, saying they didn't expect to follow a Paul Thomas Anderson movie. In fact, the madcap hilarity was the perfect pick-me-up following the dark and low-key Inherent Vice as we approached the halfway mark of 24 hours of movie watching.
The Interview asks a question many have probably pondered: When a journalist is given an opportunity to interview one of the most hated dictators on the planet, wouldn't the U.S. government become involved to attempt an assassination? And would the journalist want to go through with it? Of course, if you've seen the previous work of those involved in this comedy, you know what to expect. Rogen and costar James Franco are this century's version of The Three Stooges, minus Moe (or perhaps replacing Moe with "Mo," the near-homosexual bro-fessional screen relationship they have together).
In the midst of their antics, I realized The Interview, like many great comedies, doesn't just lampoon its subject. It paints Korean dictator Kim Jong-Un as a caricature, a spoiled man-child twisted by his father into a creature that loves American culture but responds to criticism with extreme force and explosions of rage. But, it also pokes fun at the U.S. government, the traditional news media, and the American public's gluttonous fascination with info-tainment.
The surest way to make a U.S. audience want to see something is to tell them they can't, and when the one telling them they can't is a hated public figure, the desire to see it becomes a frenzy. After a few days of that frenzy, during which Alamo Drafthouse claimed they would show 2004's Team America: World Police in place of the cancelled screenings -- followed immediately by Paramount Pictures telling them "No, you won't" -- a mysterious party shut down internet access to North Korea for a day, and Game of Thrones author George RR Martin offered to host screenings in his own theater, Drafthouse founder Tim League announced two days before Christmas that Sony had given permission for Alamo Drafthouse and other indie theaters to screen the film starting Christmas Day. The announcement, ironically, led to the immediate implosion of the Drafthouse website as its servers were overrun by an army of fans eager to buy tickets, which as of this writing are sold out for all shows on Christmas Day except for a midnighter at the Slaughter Lane location (and Friday shows are selling quickly as well).
In addition to the limited theatrical release, Sony announced on Christmas Eve that The Interview would be immediately available for streaming on various platforms, both for rent and purchase. As it is now available to almost anyone who wants to see it, my only worry is that after all the hoopla, many will be let down due to their anticipation. It's a fun film, particularly owing to the talents of soon-to-be household name Randall Park as Kim Jong-Un (previously seen as Danny Chung on the Showtime series Veep) and Diana Bang as the super-sexy People's Republic military leader Sook. It would have been a great shame to keep the talents of these two hidden in a vault, but it's hard to predict how an audience will react to a comedy with this much riding on it.
Until today I was a member of only a few hundred people in the world to have seen it, as Sony had cancelled even critics screenings. Even though I enjoyed The Interview, I found the dick jokes and gross-out humor didn't lead to as satisfying a conclusion as in This is the End. (Though, some lines really stick with me, especially "Tiger blood will lubricate it.") Fortunately, audiences now have the opportunity to decide for themselves. Freedom triumphs!