Movies This Week: December 5-11, 2014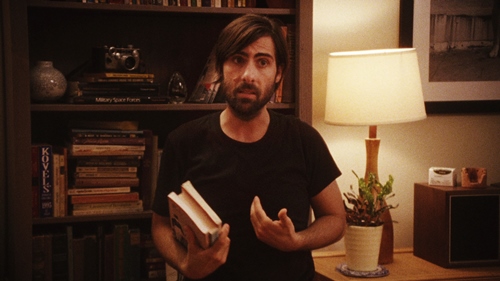 Talk about a calm before the storm. This is one of those rare weekends where there are no new wide releases hitting multiplexes, but that means there are a lot of specialty films taking advantage of that fact and sneaking into area theaters. You can see all of this week's new releases below, but first we'll take a look at some of the unique repertory screenings booked around town over the next week.
The Austin Film Society is starting a three-week series turning the spotlight on comedian Jerry Lewis. It begins tonight at the Marchesa with one of his biggest hits, 1963's The Nutty Professor. Screening from a DCP (digital print), it also plays again on Sunday evening. On Wednesday, they'll feature Rodrigo Reyes' Purgatorio for Doc Nights. The AFS website describes it as a "lyrical meditation on the border between the US and Mexico." Thursday night brings another "Essential Cinema" pick from the current series focusing on contemporary Filipino cinema. Magkakabaung (The Coffin Maker) is a 2014 feature from Jason Paul Laxamana, who also wrote and edited the film.
The Alamo Drafthouse Ritz is hosting a Silent Comedy Cavalcade on Saturday afternoon with four silent short films on 16mm featuring a live score by DJ Amelia Foxtrot! You'll get 1925's His Wooden Wedding starting Charley Chase, Charlie Chaplin's 1916 Behind The Screen, Buster Keaton's The High Sign from 1921 and Zasu Pitts and Thelma Todd starring in Hal Roach's On The Loose from 1931. On Monday night they've got another great pick from 1999: Steven Soderbergh's incredible film The Limey in 35mm and Tuesday brings another edition of "Experimental Response Cinema" with Yvonne Rainer's 1980 film Journeys from Berlin/1971 screening in 16mm.
Finally, if you're in the mood for some Christmas flicks on the big screen, you've got a wide variety to choose from. The Alamo South Lamar has Gremlins on Saturday and Sunday, the Alamo Ritz is having a special Chinese dinner event for A Christmas Story on Sunday and on Monday night they've got a Finnish horror film from 1952 called The White Reindeer in 35mm.
If you need something a little lighter on Monday night, the Violet Crown is hosting a special benefit screening of Tim McCanlies' Austin-shot family film Angels Sing (Mike's review) for CapCityKids to help homeless youth in the Austin Independent School District. Turk Pipkin will be in attendance and the ticket will include an autographed copy of Pipkin's novel When Angels Sing, on which the movie is based, and a pre-screening reception with cocktails and appetizers.
The Holiday Film Series also begins this week at The Paramount with 35mm double features of The Bishop's Wife and It's A Wonderful Life on Tuesday and Wednesday evenings. The Alamo South Lamar wraps up the week with another screening of the new digital restoration of Christmas Evil on Thursday night for those of you who want a little horror for the holidays.
Movies We've Seen
The Babadook - Debbie caught this Aussie horror film during Sundance this year and filed this report: "Things that go bump in the night might not just be birthed from a child's imagination or a fairy tale. Single mother Amelia is challenged enough and at her wits' end dealing with her disturbed son Samuel, but when the monster is real, can she both save herself and her son? What struck me most with this film was the transformation of Amelia from a state of helplessness to an awakening of fierce maternal instincts. The special effects and production design are masterfully effective, as is the lighting and cinematography. Highly recommend for horror fans." (Alamo South Lamar, also available on cable and digital VOD)
Listen Up Philip (pictured above) - This indie dramedy is Alex Ross Perry's follow-up feature to The Color Wheel. Shooting on handheld Super 16mm, the movie provides a very intimate look into a crumbling relationship. This is another one that Debbie caught at Sundance and she thought it was an "interesting character study" with "razor-sharp writing." (Violet Crown Cinema, also available on cable and digital VOD)
Also Opening In Austin
Pelican Dreams - Judy Irving, the director of The Wild Parrots of Telegraph Hill, returns with this nature documentary about the survival of a California brown pelican after it's removed from the Golden Gate Bridge. (Regal Arbor)
Point and Shoot - Winner of Best Documentary at the Tribeca Film Festival, Academy Award-nominated director Marshall Curry follows Matt VanDyke, a man who left behind his life in Baltimore for a 35,000 mile motorcycle trip through Northern Africa and the Middle East. (Regal Arbor)
The Pyramid - Ashley Hinshaw (Chronicle) stars in this low-budget horror film about a group of archaeologists in an Egyptian pyramid who discover, perhaps much like the cavers in The Descent, that they are being hunted. (Cinemark Tinseltown North & South, Cinemark Southpark Meadows, Regal Gateway)
Uzumasa Limelight - Director Ken Ochiai serves up this samurai epic starring 71-year-old stuntman Seizo Fukumoto as he trains his protege. Fukumoto has allegedly been killed onscreen a staggering 50,000 or more times in Japan. This film has such a limited release that it doesn't even have a Rotten Tomatoes score yet, but over at the Austin Chronicle, Marc Savlov's review calls it a "heartfelt tribute to these intensely physical yet widely unsung men (and the occasional woman) that's long overdue and well-deserved." (Regal Arbor)