Park City 2014 Wrap-up: Balancing Film Fests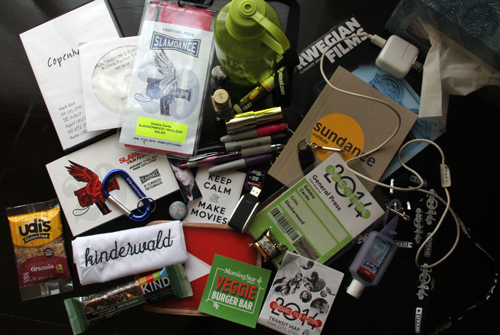 Here at Slackerwood we often publish survival guides prior to film festivals to help attendees get the most of our their fest experience. Therefore my wrap-up of my 2014 adventure to Park City for the concurrent Sundance and Slamdance Film Festival will be worth re-visiting for the "lessons learned" for future years. As seen above, there are a lot of critical essentials -- chargers, transit maps, food and hydration supplies, hand sanitizer -- plus some extras to include when packing for a 12-hour day out and about in Park City.
Tackling two festivals in seven days proved a bit tricky as I tried to fit in as much content as possible, while skipping most social and party events. In hindsight, I regret not staying long enough to attend the Slamdance awards ceremony and closing party. It was a bittersweet and anxious experience to wait for Slamdance award announcements via social media as I was homeward bound on a late flight.
I learned that prioritizing Sundance over Slamdance screenings was a great idea thanks to the flexibility and more casual approach from the Slamdance PR team and filmmakers. However, I still enjoyed the Slamdance award-winning Copenhagen so much (my review) when I screened the film in the comfort of my lodging, that I watched the film again in the main screening room for Slamdance at the Treasure Mountain Inn. I wanted to experience the gorgeous and well-framed cinematography on the big screen.
A couple of Sundance films with Texas connections took home awards this year -- the U.S. Dramatic Special Jury Award for Musical Score went to the local group, The Octopus Project, for David and Nathan Zellner's Kumiko, The Treasure Hunter (my review), while The Waldo Salt Screenwriting Award: U.S. Dramatic was awarded to Craig Johnson's The Skeleton Twins, in which former Austinite Luke Wilson played a supporting role.
The big stars were out for their premieres to walk the red carpet at Sundance. Although I saw Boyhood writer/director Richard Linklater and star Ethan Hawke around the fest quite a bit, my highlight was a quick glimpse of co-star Patricia Arquette (seen below) who was both engaging and playful at the Boyhood special screening.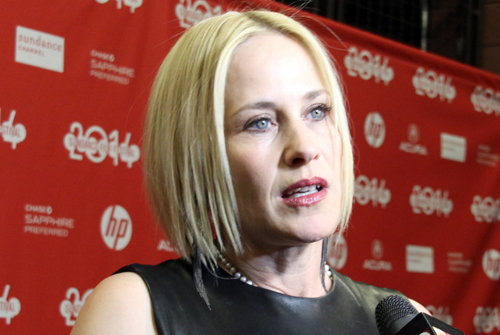 This year I met even more people at both Sundance and Slamdance from around the world directly involved on the production side, including directors, cinematographers and producers, who expanded my knowledge of the inner workings of the independent film industry. I was quite pleased to meet and connect with Kinderwald writer/director Lise Raven, seen below with stars Emily Behr and co-writer/star Frank Brückner.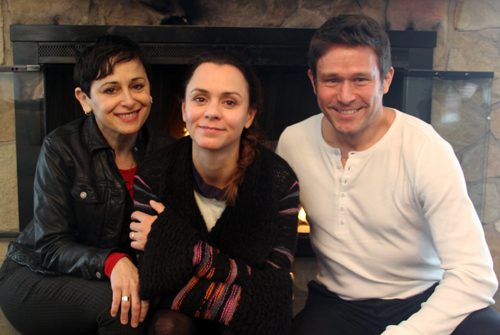 I spoke with the trio about their historical drama, which focuses on the challenges and tragic turn for German immigrants establishing their homesteads in 1854 Pennyslvania -- check back for more in-depth details from our interview. This film, shot entirely in a rustic location in Lancaster County, Pennsylvania, is a slow and methodical story with little dialogue, setting its tone and pace through the natural effects to provide a hyper-realistic portrait of immigrant life. Bruckner and Behr are well matched in their roles, with Behr's performance demonstrating the transformation of her character.
I also spoke with Copenhagen writer/director Mark Raso and co-stars Freddericke Dahl Hansen and Gethin Anthony (seen below) about their Slamdance debut, which won a Slamdance audience award.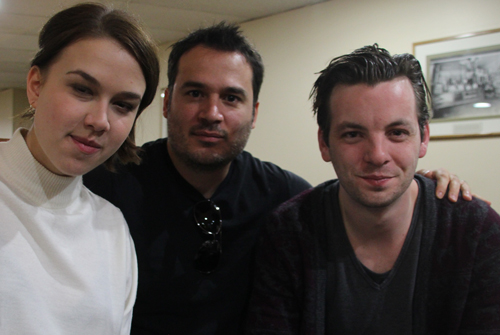 A familiar celebrity face at both the Austin Film Party at Sundance and at Slamdance was actor Joe Manganiello, seen below with DJ Z-Trip who was the music composer for La Bare, and his brother and co-producer Nick Manganiello.
Although I missed a chance to meet the film's stars, the La Bare filmmaking team was quite personable as we spoke a bit about their documentary, which was picked up for distribution by Main Street Films. Check back for more from our chat closer to the film's theatrical release this summer.
Here are a few movies I saw and would recommend from this year's 30th annual Sundance Film Festival:
Staying in a more central location with several women from the film industry was the best course of action that I took this year to be thoroughly enjoy Sundance and Slamdance Film Festivals simultaneously. Although the planning and logistics was quite time consuming and ever-changing, great relationships were born in our condo between creative filmmakers, festival programmers, and media.
No wrap-up is complete without a lessons learned, so here's mine for Park City 2014:
You can never have enough business cards, pens and water.
Caribiners are great for securing luggage, water bottles, hand sanitizer and lip balm.
You actually can have too many layers.
Remember to get a flu shot and don't share drinks.
Planning a shorter visit doesn't equal less coverage as I found myself trying to jam too much in -- go for the whole, and at the very least stay for the Slamdance awards ceremony and party.
[Photo credits: All photos by Debbie Cerda, for use by request with accreditation]