Ready, Set, Fund: Creepy and Cool November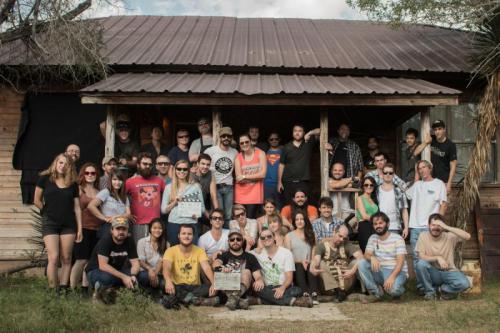 Ready, Set, Fund is a column about crowdfunding and fundraising endeavors related to Austin and Texas independent film projects.
It's a busy month for local films in the making, and you have plenty of chances to help your favorite (or future favorite) Texas filmmakers bring their stories to the screen.
Into fun, artsy horror movies? Slow Creep by Jim Hickcox is about a "rad-as-hell 15-year-old girl" who, in an act of revenge, goes after a monster made of garbage. This project recently received an AFS Kodak Grant but still needs to raise a few thousand dollars so that the filmmaker can properly create the 90s aesthetic and scary details his monster movie requires.
Find out more in this trailer:
Crazy Carl and His Man Boobs: An Austin Love Story recently screened at Austin Film Festival (Debbie's review), and the filmmakers are now seeking funding for distribution. If enough money is raised to pay for the streaming rights for three songs used in the film, the story of Crazy Carl will be available free online to all.
Here's the trailer:
University of Texas at Austin film school graduate and current UT Arlington professor Ya'Ke Smith is seeking flexible funding to cover post-production costs for one hitta quitta. Shot on iPhones, the film is about a young boy obsessed with violence and media and features "graphic, unapologetic and confrontational" subject matter.
Here's more about the project from this award-winning filmmaker:
Mustang Island is the feature-length version of the short film Molly that played at SXSW and is directed by Craig Elrod (The Man from Orlando). This tale of comedy and heartbreak is set on the Texas coast and brings together a cast of local actors including Macon Blair (Blue Ruin), Lee Eddy, John Merriman and Jason Newman.
You have until Dec. 5 to help this project meet its Kickstarter goal:
If you're reading this by Nov. 21, you still have the chance to help Found Footage 3D happen (that's a picture of the film's crew at the top of this column). This project aims to be "the Scream of found-footage movies," and to do this they'll need resources for special effects and eventually promotion and distribution. They're offering some pretty fun donation perks, too: For $250, the filmmakers will create a custom reenactment of your favorite horror movie scene.
Here's more:
Finally, local filmmaker Jeremiah Jones (whose first film Restive screened at Austin Film Festival in 2011) and his brother Jordan Jones (who starred in Dig) are working on a new project called Fluidic. The film tells the story of three couples who are "magnetically drawn together" and is currently raising funds to cover post-production costs.
Here's a look at the movie and some background details about the filmmakers:
Updates: Evolution of a Criminal, featured in last month's Ready, Set, Fund, reached its goal and will now have the chance to be seen around the world.
Have a project that you would like to be considered for an upcoming Ready, Set, Fund feature about crowdfunding and related fundraising endeavors for Austin and Texas indie film projects? Contact us with the subject line "Ready, Set, Fund."