AFF Review: Crazy Carl and His Man-Boobs: An Austin Love Story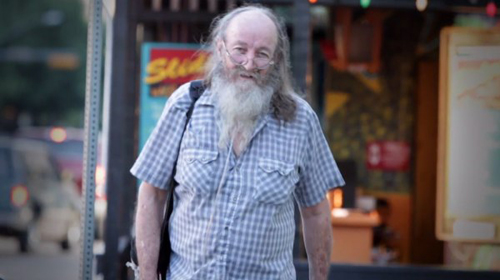 With the influx of transplants, the rise of condos and office buildings across the Austin skyline, and the gentrification of much of Austin's eclectic areas, it can be hard to remember the vibrant time of the past. You could people -watch all day at local cafes including the original Quack's on the Drag -- actually called "Quackenbush's Intergalactic Dessert Co & Espresso Café" -- and Les Amis, then visit Sixth Street to listen to street musicians and buy a flower from a street vendor without having to step over the remnants of drunkenness.
Beef and Pie Productions filmmakers capture the nostalgia of old Austin in their 50-minute documentary film, Crazy Carl and His Man-Boobs, which premieres at this year's Austin Film Festival and screens again tonight at 7 pm at the Alamo Drafthouse Village. This quirky and entertaining film brings to light the forces that both created and are driving this phenomena away. As the economic and political landscape has changed in Austin, so has the heart and the people of this progressive city.
If you've ever been to Esther's Follies at Sixth Street and Red River, you may have seen Crazy Carl Hickerson. Best known for selling and spinning flowers, he can also be seen flashing his man boobs and dancing. What you may not know is that Hickerson has also been an Austin City Council candidate several times, with a penchant for odd platforms -- some even related to his foot fetish. Hickerson spends much of his time caring for his wife Charlotte Ferris, and the loving couple are a source of amusement with their good-natured tales.
Director Mike Woolf and director of photography Andrew Yates captured the free-spirited story of Crazy Carl through a combination of personal interviews with not only Hickerson and Ferris, but many other Austinites including artist Kerry Awn, former mayor Will Wynn and former city council member Max Nofziger. The documentary also includes old newspaper clippings and incredible archival images from photojournalist Alan Pogue. All of these elements are interwoven by editor Landon Peterson to create an entertaining ride through the 1970s that engages the audience.
The music featured in Crazy Carl and His Man-Boobs fits perfectly, whether new songs created by local musicians Shawn Sahm and Kevin Russell or old songs from Janis Joplin. I adored the catchy closing track "Old School Austin Groove," which I've caught myself humming after a couple of listens, as well as the sweet tribute to Carl and Charlotte, "Mad Man and Mademoiselle."
As a matter of fact, Beef and Pie is currently crowdfunding for the music streaming rights for three songs from the 1970s -- Janis Joplin's "Get it While You Can," Doug Sahm's "Groover's Paradise" and the 13th Floor Elevators' "Reverberation" -- in order to put the whole film online for free. You can support their campaign by donating by Monday, November 24. Of all the backer perks, I am most intrigued by the "Mystery Beef and Pie Swag Bag(TM)," which comes with a warning -- "may contain any and everything we need to clear out the shed. Like the stuff we never get around to taking to Goodwill," and not the BBQ and pecan pie I expected at first glance.
I recommend not missing Crazy Carl and His Man-Boobs, which chronicles an important aspect of Austin that many of us long for. Despite our desire for technology and innovation, there's a special nostalgia for the carefree spirit of Austin characters like Crazy Carl and Charlotte Ferris that should be embraced and shared. Woolf and Yates succeed at this by implementing their slick and fun filmmaking, which captures the humanity in these people.