AFF 2014: Debbie's Picks for Films and Panels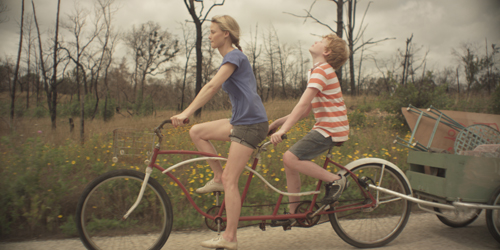 Seeing filmmaker Eric Hueber at a local film event in August reminded me that I hadn't heard about screenings or distribution of his bittersweet drama Flutter. I'd thoroughly enjoyed his narrrative debut when I watched it back in April at the Dallas International Film Festival (my review), as well as meeting the movie's talented Texas cast and crew.
I'm pleased that this touching film about the relationship between a impoverished young mother (Lindsay Pulsipher) and her imaginative son (Johnathan Huth Jr.) will be featured at the 2014 Austin Film Festival and Conference on Saturday, October 25, 7 pm at the Rollins Theatre and again on Tuesday, October 28, 4 pm, at the Alamo Drafthouse Village. Check back later for input from cast members including Dallas-based Flutter executive producer and co-star Glenn Morshower about the making of this family drama.
AFF offers content from around the world and across film genres, as science fiction meets psychological thrillers and international documentaries open windows to problems that we may be contributing to -- or at the very least, can empathize with.
Caitlin already presented an excellent overview of other Texas films at this year's festival that you'll want to see -- check back for my interview with the filmmakers behind Crazy Carl and His Man Boobs: An Austin Love Story. I am quite pleased with the number of film selections available this year at Alamo Drafthouse Village and Galaxy Highland Theatre 10, especially due to the ample free parking and convenient location to this northwest Austin resident.
Here are a few highlights of my planned AFF film schedule this year:
Black Mountain Side -- Reminiscent of John Carpenter's The Thing, this thriller conveys the excitement and tension of a group of archaeologists in Northern Canada who uncover a strange structure in that appears to be over ten thousand years old. With communication cut off from the rest of the world and the disappearance of crew members, the cold isolation and other forces begin to impact the group. (Sunday, October 26, 9:30 pm at Texas Spirit Theater; Wednesday, October 29, 10 pm at Alamo Village)
Jimmy Vestvood: An Amerikan Hero -- Writer and comedian Maz Jobrani stars as Jamshid Fakhredinpour, an Iranian immigrant who moves to Los Angeles after winning a green-card lottery. Inspired by his childhood hero and film icon Steve McQueen, Jamshid wants to be a true "American hero," which isn't easy when the only job that he can get is as a security guard at a Persian grocery store. However, it's not long before he stumbles across the path of a corrupt arms dealer (John Heard) and a plot to start World War III. Will this hero reminiscent of Inspector Clouseau save the day in this humorous farce? (Sunday, October 26, 9 pm, at the IMAX Theatre; Monday, October 27, 7 pm at Alamo Village)
Poverty Inc. -- Writer/director Michael Matheson Miller travelled to over 20 countries to expose the often sordid and corrupt business side of international charity. This eye-opening documentary culled from hundreds of interviews offers input from local entrepreneurs and their colleagues along with expert commentary from public leaders, development economists, anthropologists, and others. "From TOMS Shoes to international adoptions, solar panels to US agricultural subsidies, the film challenges each of us to ask the tough question: Could I be part of the problem?" (Saturday, October 25, 9:30 pm at IMAX Theatre; Monday, October 27, 4 pm at the Alamo Drafthouse Village)

The official trailer for Poverty, Inc. has yet to be released, but the video below from PovertyCure contains some of the footage and key ideas of the film.
The Sound and the Shadow -- Writer and director Justin Paul Miller, and co-writer Sam Zvibleman's build tension in this mystery about a young girl's disappearance and what it means to an eavesdropping neighbor who secretly records his audio and sounds from his neighborhood. Harold (Joseph Murray) may hold critical clues that can help solve the case, and is faced with either revealing his secret or conducting his own investigation. (Friday, October, 24, 9:30 pm at the IMAX Theatre; Wednesday, October 29, 9:45 pm at Galaxy Highland 10)
Tomorrow We Disappear -- The Kathputli Colony slum in New Delhi has been the home and center of mystic performance and folk art for more than 30 years, including magicians, puppeteers and circus performers. The Indian government issued relocation permits to the colony residents last year, as plans are made to bulldoze and clear their squalid homes for development of a mall. (Friday, October 24, 6 pm at Alamo Village; Monday, October 27, 5 pm at Rollins Theatre)
Panels
The Austin Film Festival always features great content during three full days of the conference portion. Whether you are an aspiring screenwriter or a cinephile, Thursday's opening panel "How to Work the Conference," featuring seasoned AFF attendees, will prepare you for networking and mingling at the conference and festival as well as navigating roundtables, panels and the jam-packed film and event schedule.
Seed&Spark CEO/founder Emily Best will return to Austin to speak about "Crowdfunding to Build Independence." Best will talk about how crowdfunding connects filmmakers to their film audience by using funding campaigns to building long-lasting relationships and a foundation for theatrical distribution. Attendees will learn how to create a crowdfunding action plan to support a direct relationship with audiences.
As a science-fiction enthusiast, the panel I am most excited about is the "Science Fiction vs. Science Fact," on Friday, October 24 at 9 am. Filmmakers Scott Z. Burns (Side Effects, Contagion), Eric Heisserer (Hours, The Thing) and Ashley Miller (Thor, X-Men: First Class) will discuss whether the fictional future we see on screen could actually happen, and how to balance fiction with fact in a manner that audiences will embrace a suspension of disbelief. From the panel description: "Between mass zombie outbreaks to intricate time travel to adventures through space, writers need to know where to pull from scientific fact, and where to bend the truth."
Here are some other AFF panels that I am looking forward to attending:
With a full slate of conference and film programming at this year's AFF, I will be hard-pressed to make it to any of the wonderful parties and networking events this year -- but if I can figure out how to travel like in The History of Time Travel, which premieres at AFF -- who knows?