Dallas IFF Review: Flutter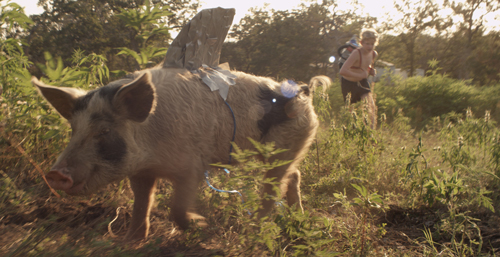 To what length will mothers go to protect their children -- or grandchildren -- and what's the definition of a "bad" parent?
That's the core theme of Flutter, the narrative debut for Austin filmmaker Eric Hueber, who wrote this moving family drama as an homage to his own deceased own mother. That personal connection lends to an intimate portrayal of a mother's unconditional love for her son.
Johnathan (Johnathan Huth Jr.) is obsessed with the sea, and battles the imaginary creatures within along with his 300-pound pet pig Wee Wee. Due to an often debilitating condition of of nystagmus and severe glaucoma, Johnathan must take medication to relieve the excruciating pain and pressure that could cause irreversible blindness.
Prescriptive medications cause side effects including allergic reactions that Johnathan's mother JoLynn (Lindsay Pulsipher) is unwilling to put her son through. JoLynn grows just enough marijuana to give Johnathan daily "medicine" via brownies to relieve his condition. A high school drop-out herself, JoLynn homeschools Johnathan as he is unable to see the chalkboard at school. Unfortunately their ramshackle home is not an ideal setting either, with months of back rent due and utilities cut off.
With absentee father David (Jesse Plemons) on the road in pursuit of fame and fortune in music, JoLynn is forced to rely on David's parents Mark (Glenn Morshower) and Linda (Reis Myers McCormick). Mark is sympathetic to JoLynn's plight, recognizing David's lack of financial and emotional support for his family. However, Linda is resentful and critical of JoLynn, and takes matters into her own hands to control Johnathan's life. It is only through the support of her friend Curtis (Charles Halford) that JoLynn is able to affect an important change, but not without sacrifices of those involved.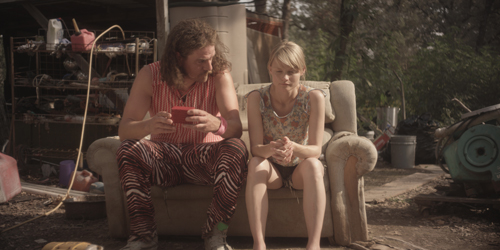 Flutter is a character-driven bittersweet fable that will force many viewers to evaluate their perspective and judgment of impoverished parents and medicinal marijuana. Through his writing and directing, Hueber expertly conveys the incredible beauty of love between his characters despite being surrounded by squalor -- whether it's JoLynn singing to soother her son's pain or Curtis' longing glances at JoLynn. He also successfully captures the lighthearted innocence of a young boy insulated and validated by a loving mother in this narrative.
The casting and characterization of Flutter hits the mark on all fronts. The love that JoLynn has for her son is so evident through the incredibly radiant and natural acting of Pulsipher, who shines a beacon in the darkest moments. Newcomer Huth is well suited for the role of Johnathan with his quirky boyish nature.
Supporting actors Morshower and McCormick deliver outstanding performances in Flutter. Morshower effortlessly portrays a caring and concerned man who also accepts the fate of loving such a formidable woman as Linda. McCormick stays true to her tight-lipped battle-axe character throughout, impressing upon viewers that Linda is not a force to be reckoned with. An appearance by Cassie Shea Watson as JoLynn's sister Natalie is a bit brief but certainly memorable in its tawdry hilarity.
Flutter is a visually poetic story as well, through its cinematography and production design. The lighting is an integral element throughout, setting the tone of particular scenes. The animation interwoven throughout is well placed and adds brevity to balance out the more somber moments, but also reveal that Johnathan is cognizant of the challenges that his mother faces.
Comparisons that have been made to the award-winning Beasts of the Southern Wild are justified, whether due to the central theme of a missing parent and the magical world created by children. However, I found Flutter to be more of a film that I can personally connect and empathize with in a more natural manner. I highly recommend watching Flutter at the earliest opportunity.