Movies This Week: September 26-October 2, 2014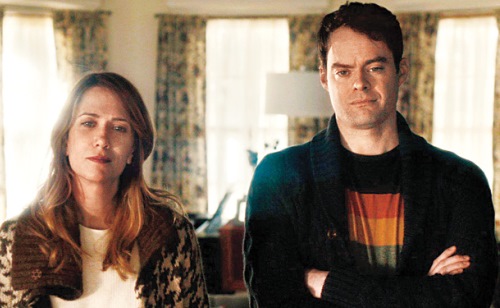 We're in full-blown recovery mode from another amazing year of Fantastic Fest, but there is truly no rest for the wicked around here. Not only do we have a handful of intriguing new releases, but plenty of specialty screenings will have you racing back into the theater, no matter how many films you saw last week.
Tonight, the Austin Film Society is hosting a selection of eight short films from this year's Sundance Film Festival. With a mix of fiction, documentary and awardwinning short films, this 94-minute program includes the acclaimed debut from actress Rose McGowan entitled Dawn. You can catch it this eveing at the Marchesa. Head back there on Sunday afternoon as programmer Lars Nilsen schools you about Lee Tso Nam's The Hot, The Cool & The Vicious and screens it in a 35mm print. Essential Cinema dives into the "Films Of Satyajit Ray" for October and it begins on Thursday with 1963's Mahanagar (The Big City).
At the Alamo Drafthouse Ritz, Sunday night brings us a special "Cinema Cocktails" screening of An American In Paris with Gene Kelly and Leslie Caron, while Key Largo will screen in 35mm on Monday night wrapping up the "Bogart & Bacall" series. A brand new 4K digital restoration of Jaws is headed back to the Alamo Lakeline and Slaughter Lane locations this Saturday, Sunday and Tuesday. Tickets are still available for a double-feature feast of The Godfather on Sunday. Check this link for menu & tickets. Alamo Lakeline will be hosting Afternoon Tea on Saturday afternoon with Agnieszka Holland's beautiful 1993 adaptation of the classic children's tale The Secret Garden. It's a mother-daughter themed event with appetizers and tea provided by Austin's own Zhi Tea.
As the Alamo South Lamar transitions from Fantastic Fest back into regular programming, they've got a Grease sing-along on Saturday afternoon, a screening of the locally-shot feature film Grow Up, Tony Phillips (Elizabeth's review) on Sunday night that will include a cast and crew Q&A, and the documentary Nas: Time Is Illmatic, about the 20th anniversary of the hip-hop classic, on Thursday night.
The Scoot Inn and the Austin Chronicle have another excellent film this week for their music movies series. The Last Waltz, Martin Scorsese's chronicle of The Band's farewell 1976 concert, will screen Tuesday night at the historic venue. The film is free and will begin around sunset, with food available for purchase as well as special movie-themed cocktails at the bar.
In terms of new releases, My Old Lady expands to the AMC Barton Creek and Cinemark Hill Country Galleria while continuing on at the Regal Arbor. Terry Gilliam's The Zero Theorem (Jette's review) continues at the Alamo Slaughter and adds the Alamo South Lamar for select showtimes, and is also available on VOD. Also, Alamo South Lamar resumes screenings of Boyhood, The Congress, Frank and adds Tusk.
Movies We've Seen
The Boxtrolls - The latest release from Laika, the stop-motion animation studio that brought us ParaNorman and Coraline, is based on Alan Snow's book Here Be Monsters! Mike pried himself away from Fantastic Fest to take in a press screening and his review says that although the movie seems to be aimed at a younger audience than the previous Laika films, this "is an instant and timeless classic for children and their families." (wide, available in 2D and 3D screenings)
Also Opening In Austin
The Equalizer - Director Antoine Fuqua (Training Day) teams up again with Denzel Washington for an action flick based on the old television show that aired on CBS in the mid-80s. Washington plays a retired intelligence officer who gets pulled back in for one more case (isn't that always the way?). The film also stars Chloe Grace Moretz, Bill Pullman and Melissa Leo. (wide, also screening in digital IMAX)
The Guest - After winning over audiences at SXSW and Fantastic Fest, this violent thriller is hitting the Alamo this week. Dan Stevens of Downton Abbey stars as David, a soldier who shows up to at the home of a family allegedly on a mission from their own solider son who was killed. From Adam Wingard and Simon Barrett (the duo who brought us the incredible You're Next), I'm most intrigued that the soundtrack is filled with old industrial and goth classics from Front 242, Clan Of Xymox, The Sisters Of Mercy and Love And Rockets. (Alamo South Lamar)
The Skeleton Twins (pictured above) - Former Saturday Night Live co-stars Kristen Wiig and Bill Hader star in this Sundance favorite from Craig Robinson about two siblings who reunite after one of them attempts suicide. It's a rare dramatic endeavor for both actors, but the film also veers into the darkly comic territory you would expect. The supporting cast also includes Luke Wilson and Modern Family's Ty Burrell and the film is currently sitting with an 87% fresh rating over at Rotten Tomatoes. (Alamo South Lamar, Regal Arbor, Violet Crown Cinema)
The Song - Hitting theaters like a faith-based episode of Nashville, this Christian drama tells the story of a songwriter who manages to get out one big hit and then struggles with temptation. (Regal Metropolitan, Regal Gateway, Cinemark Hill Country Galleria)
Take Me To The River - This music documentary made its world premiere at SXSW earlier this year. It unites musicians from Memphis and the Mississippi Delta to record an album together. Featuring artists like Mavis Staples, The North Mississippi All-Stars, Bobby "Blue" Bland, Snoop Dogg and William Bell, it's a film that Charles Ealy at the Austin American-Statesman calls "a moving tribute to a grand piece of Americana." Jette saw it at SXSW (although she says she was too lazy to review it) and says the music is just amazing. (Regal Arbor)