SXSW Review: Grow Up, Tony Phillips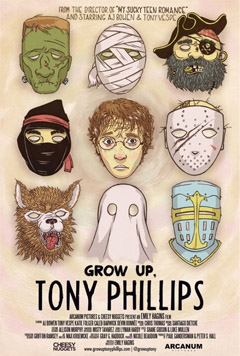 Grow Up, Tony Phillips, the new comedy from Emily Hagins, made its world premiere at SXSW last week, in the Vimeo Theater of the Austin Convention Center. The audience was eager and excited to see the latest project by this young Austin-based director.
Tony Phillips (Hagins film regular Tony Vespe) is an easygoing senior in high school who still dresses up for Halloween and loves trick-or-treating. He spends his fall months thinking up costume ideas, even sketching concepts in his college prep class. He tells his mom that he sees these costumes as his "legacy."
His two closest pals are cool kid Craig (Devin Bonnee, another Hagins regular) and Elle (Katie Folger, also in Zero Charisma); both attempt to get Tony to get past this fascination with October 31. In one discussion with Tony, Elle comments, "You don't really worry about anything, do you?" They have their own reasons for worrying about Tony. Craig is falling in with the popular kids and Tony embarrasses him. Elle fears that kids at their school will laugh at her friend.
Tony also has a much younger friend/babysitting charge Mikey (Caleb Barwick, Army Wives) who looks up to him, and an older cousin Pete (AJ Bowen, You're Next) whom Tony himself esteems. As time passes in the film, we see how Tony's interactions with these four characters help him discover more about himself.
During the Q&A afterwards, Hagins said that she doesn't care to define the time or location of the movie. I easily figured out it was Austin, however, as soon as I saw a scene filmed in a familiar courtyard at my old high school (Johnston, RIP). The set design is punchy (Tony has a poster for fictitious movie Space Hipster in his room) and fully establishes us in the season of autumn starting with the cute opening credits sequence.
Some Austin character actors appear later in Grow Up, Tony Phillips to provide more laughs -- Byron Brown, especially. This saves the film from a slight dragginess. Although, honestly, the seats at the Vimeo Theater were so awfully uncomfortable that it may have just felt like the movie slowed down towards the end.
The kids in this film come off as genuine, awkward humor and all. There's not a whole lot of depth to Grow Up, Tony Phillips, but does there need to be? The film is cute and charming. It's refreshing to see a coming-of-age story wherein teenage characters remain true to themselves.
Austin connections: The movie was shot in Austin with a primarily local cast and crew. However, there are few recognizable Austin locations in the movie, the idea being that it could be set in a range of eras/locations. Fans of Austin indies may recognize Byron Brown, Chris Doubek, Korey Coleman of Spill.com ... and sometimes-local film critic Scott Weinberg as a teacher. Associate producer and Slackerwood contributor J.C. De Leon appears briefly as a heavy along with local film writers Brian Salisbury and Luke Mullen (third from the left, below).