Review: The Boxtrolls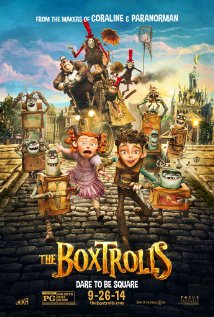 I am always eager to see the latest Laika release. Output is slow from the animation studio due to the time-consuming and meticulous nature of its handmade stop-motion films, but bottling magic is no easy task. There is an ineffable tone in the studio's films -- perhaps because of its complete attention to details, perhaps because of some way natural lighting works compared to digital renderings -- that instills a sense of realism.
With The Boxtrolls, Laika takes on steampunk, creating a Victorian-looking village populated by hundreds of unique, charming (and some not so very) characters. Based on the children's book by Alan Snow, Here Be Monsters, directors Graham Annable and Anthony Stacchi bring to life Eggs (Isaac Hempstead Wright, aka Bran Stark from Game of Thrones) and Winnie (Elle Fanning) as they fight to save their misunderstood friends from the evil designs of wily exterminator Archibald Snatcher (Ben Kingsley).
I found the script somewhat less engaging than Laika's previous two movies, Coraline and ParaNorman, as it felt more appropriate for a younger audience. However, the film was never boring and often uproariously funny. The town of Cheesebridge is full of puns, especially in the character names like Lord Portley-Rind or Snatcher. ("My favorite was The Briehemoth.") There is also an oddball musical number, "The Boxtrolls Song," written by Eric Idle. Kingsley's villainous Mr. Snatcher steals the show (along with the trolls), as he performs with an accent that had me thinking he was Michael Caine.
Along with Kingsley, Wright and Fanning, The Boxtrolls includes a trunkload of recognizable names putting on often unrecognizable voices. Jared Harris, Nick Frost, Dee Bradley Baker, James Urbaniak, Toni Collette, Simon Pegg, Richard Ayoade, and even Tracy Morgan voice the various townspeople and trolls. Stay through the end credits to see who they were and for a delightful performance of Malvina Reynolds' "Little Boxes." The Boxtrolls, like Coraline and ParaNorman before it, is an instant and timeless classic for children and their families.