Ready, Set, Fund: Newcomers and Old Film Friends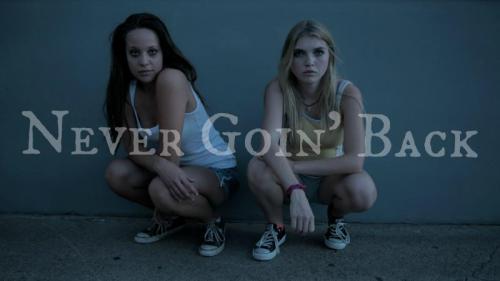 Ready, Set, Fund is a column about crowdfunding and fundraising endeavors related to Austin and Texas independent film projects.
This month's look at the local crowdfunding scene offers a diverse group of films made up of both familiar names and newcomers to this column.
Let's start with who you may know: Never Goin' Back (a recent AFS Grant recipient), is written and directed by Augustine Frizzell and tells the story of two teenage girls who enjoy a crazy day of bad behavior after losing their jobs at a pancake house. Fun fact: Frizzell grew up in Garland, TX and calls the script for Never Goin' Back "almost completely autobiographical." Time is running out to help this one meet its Seed & Spark goal -- you have until Friday to give.
If you ever feel the need to throw a few dollars at a local film project or want to know which ones have recently been funded, the Austin Film Society Kickstarter page is a good place to look, as it features campaigns from past grant recipients and friends of AFS.
The project on this page that's most in need of present assistance is called An American Ginger in Paris. This "sort of sequel" to Being Ginger is directed by Scott P. Harris, a University of Texas grad and AFS Grant alumnus. This documentary will follow Harris as he realizes his dream to live in Paris as an artist (he'll pay his own living expenses -- the Kickstarter is to help with filmmaking costs).
Here's more about the project:
This seems like something that should exist: A film about the Austin City Limits television show that chronicles the 40-year history of this important part of Austin's identity. The documentary will be directed by Keith Maitland, who is also an AFS Grant recipient and the director of Tower, a highly anticipated film about the University of Texas Tower shooting of 1966 (currently in production). Contribute to Maitland's ACL documentary here and get an idea of what to expect below (Willie Nelson makes an appearance, of course).
And now, here are some local filmmakers you may not have heard of yet. Ice Breaker is directed by Willy McGee and Daniel Davis and follows a shy programmer who designs an app to helps introverts connect. This indie feature is inspired by the filmmakers' time living in Austin and it co-stars Bonnie Sturdivant, who appeared in Jeff Nichols' Mud. You can contribute to Ice Breaker's Kickstarter here and see a preview below.
Finally, Bug is a feature film seeking its finishing funds through Indiegogo. Directed and written by Parker Dorris, Bug is about a young Texas girl whose father is in prison and whose grandfather may be hiding a terrible secret. Check out the trailer below and donate to the film here
Updates on previously featured projects:
Have a project that you would like to be considered for an upcoming Ready, Set, Fund feature about crowdfunding and related fundraising endeavors for Austin and Texas indie film projects? Contact us with the subject line "Ready, Set, Fund."