Movies This Week: September 5-11, 2014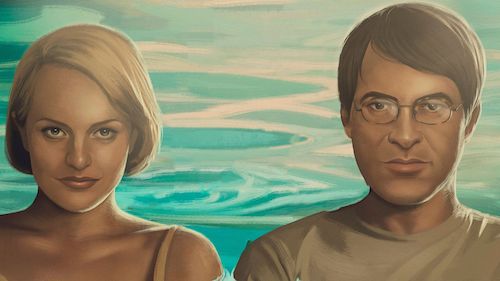 It's one of those rare weekends where there are basically no wide releases entering the marketplace. OK, there's an Ashley Judd movie aimed at the faith-based crowds, but that's all that is headed for the multiplexes (ensuring another easy week at the top of the box office for Guardians). That has left an especially adventurous week of bookings with lots of smaller titles hitting town, including the latest from Roman Polanski that we had assumed was never going to play in Austin. Before I show you the new releases, let's take a look at this week's specialty programming.
While the Paramount 100 will continue on, the official Paramount Summer Classic Film Series is coming to a close this weekend with the Texas-based epic Giant (which Don just revisited in Lone Star Cinema). Elizabeth Taylor, Rock Hudson and James Dean star in this classic drama which will run in 35mm on Saturday evening (complete with a party for Film Fan Members) and Sunday afternoon.
Over at the Marchesa, the Austin Film Society is debuting a new digital restoration of Orson Welles' Othello this week. It will play Sunday afternoon and again Tuesday night. AFS also has a one-off screening of a new IFC release called War Story on Sunday. Catherine Keener stars in this selection of the 2014 Sundance Film Festival which is also available on cable and digital VOD. This month's Essential Cinema series features "Masterpieces of Polish Cinema, Selected by Martin Scorsese." On Thursday night, master filmmaker Krzysztof Kieslowski's 1987 film Blind Chance screens from a digital restoration.
Alamo Drafthouse Ritz is screening Back To The Future on Saturday afternoon (also Monday matinee, Tuesday evening and Thursday matinee) and will follow that with a full Back To The Future marathon with all three films on Sunday. As part of the continuing "Alamo 100" series, Coppola's The Godfather will be screening Saturday, Sunday and Wednesday at the Alamo Lakeline and Slaughter Lane locations.
Both Chef and Snowpiercer are returning to the Alamo Village for select showtimes this week and they'll also be hosting a special benefit screening of But I'm A Cheerleader with all proceeds going to Out Youth Austin! It's also worth noting that the Alamo South Lamar will be running regular showtimes through Wednesday evening, but then aGLIFF programming will be taking over through the weekend. Tickets can be purchased for individual titles through the Drafthouse website (like Wednesday night's opening film Matt Shepard Is A Friend Of Mine), but badgeholders for the festival will have priority seating.
Movies We've Seen
Frank - Partially filmed during the 2013 SXSW Music Festival, this offbeat British comedy has a stellar cast that includes Maggie Gyllenhaal and Michael Fassbender. Don's got our review, calling it "a wonderfully weird movie that balances its anarchic sensibilities with a big heart." (Alamo South Lamar, also available on cable & digital VOD)
The Identical - Ashley Judd, Ray Liotta and Seth Green star in this Christian drama that tells a sort of alternate reality of the life of Elvis Presley (the character being split into two twin brothers, both portrayed by a real-life Elvis impersonator named Blake Rayne). The film's reviews have been abysmal, with a current rating of a mere 3% on Rotten Tomatoes. Debbie says, "Sadly The Identical exceeded my expectations with its cheesiness to a comic surreal level for which I can't recommend this often anachronistic implausible film." Look for her review this weekend. (wide)
The Last Of Robin Hood - Co-directors Richard Glatzer and Wash Westmoreland previously teamed up on the delightful 2006 drama Quinceanera. They've collaborated once again, this time on a biopic about legendary swashbuckler Errol Flynn (played here by Kevin Kline). Unfortunately, the reviews on this one have been seriously unkind and this one probably won't stick around too long. Jette says it's "lovely to look at, but pointless and lacking in depth." Look for her review this weekend. (Regal Arbor)
No No: A Dockumentary - Austin filmmaker Jeffrey Radice received an AFS Grant in 2009 for this sports documentary, which premiered earlier this year at Sundance and also played to great crowds during SXSW. It tells the story of Dock Ellis, who infamously pitched a no-hitter for the Pittsburgh Pirates in the summer of 1970 while on LSD. Caitlin's review from SXSW called it "illuminating and affecting" and said, "even people who don't know much about baseball will find a compelling story here." (Alamo South Lamar, also available on cable and digital VOD)
The One I Love (pictured above) - This intriguing indie, starring Mark Duplass and Eiizabeth Moss, has been one of the year's most pleasant surprises for me. As Marcelena mentions in her review, this is the kind of movie that you don't want to know much about before you watch it. Just trust us, and the film's certified Fresh rating on Rotten Tomatoes, and take a chance on it this week! See it, then look for Jette's interview with the filmmakers on Monday. (Alamo South Lamar, also available on cable & digital VOD)
Also Opening In Austin
A Summer's Tale - Eric Rohmer's Tales of the Four Seasons series featured this 1996 film that never saw a theatrical release in the United States. It's now been digitally remastered and released theatrically here for the first time thanks to upstart distributor Big World Pictures. (Violet Crown Cinema)
Forrest Gump - This 20th Anniversary IMAX re-release is in theaters for one week only, in advance of a new special edition Blu-ray release on the way later this month. (AMC Barton Creek, Regal Gateway)
Venus In Fur - Based on the Broadway play by David Ives (which was staged locally last year), this is the newest effort from Roman Polanski. The film stars Polanski's wife Emmanuelle Seigner (who also starred in his 1992 feature Bitter Moon) and Mathieu Amalric and takes place in a Parisian theater over the course of one day while a director auditions actresses for a play and finally finds his star. Released earlier this summer by IFC Films, it's finally picking up a few select local showtimes for what is certain to be a one-week engagement in advance of the film's home video release next month. (Violet Crown Cinema, also available on cable VOD)