Lone Star Cinema: Giant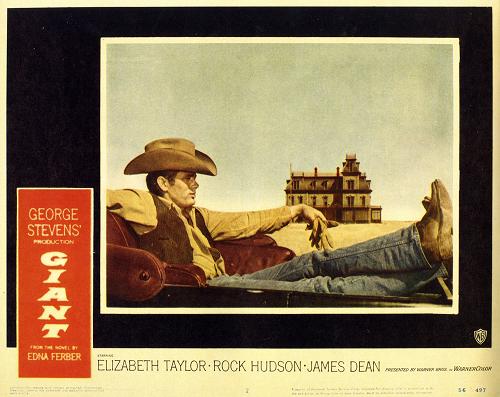 A poster for Giant billed the iconic Texas film as The GIANT of Them All.
The poster hardly exaggerated. Running more than three hours, starring three of Hollywood's biggest stars of the era, spanning more than two decades and set against the vastness of a cattle ranch, Giant seemed as big as Texas itself when it was released in 1956.
To the film's legions of fans and many critics, Giant is still a giant. No other film captures the mythical Texas -- if not the real one -- quite like George Stevens' epic story. Countless films have been made here, but with its swaggering view of life in the Lone Star State, Giant may be the most Texan (again, in the completely mythical sense) of all.
Based on a 1952 novel by prolific novelist and playwright Edna Ferber, Giant is the story of the Benedict family, owners of a 595,000-acre West Texas cattle ranch. The film opens in the early 1920s, when Jordan "Bick" Benedict (Rock Hudson) travels to Maryland to buy a prized stud horse. He meets the horse owner's daughter, socialite Leslie Lynnton (Elizabeth Taylor), and the two marry after a whirlwind romance.
Bick and Leslie return to the Benedict ranch, Riata, where the Leslie finds herself a stranger in anything but paradise; Riata is a hot, dusty place nothing like her green and genteel Maryland farm. She isn't entirely welcome, either: Bick's sister, Luz (Mercedes McCambridge), who runs the ranch with a cold heart and an iron hand, has no use for her refined and pampered sister-in-law. (Leslie is no fonder of Luz, whom she finds rude and controlling.) On the other hand, ranch hand Jett Rink (James Dean, in the final role of his tragically brief career) is plenty friendly to Leslie. He barely hides his crush on her, further straining his difficult relationship with his bosses, Luz and Bick.
Leslie does her best to adapt to ranch life and the unfamiliar ways of her new Texas family and friends. She does not, however, accept their blatantly racist treatment of the ranch's Hispanic employees and their families. Her compassion for them -- she has the audacity to treat them as equals and help them however she can -- angers Luz and Bick, and establishes one of Giant's central themes: the need for racial tolerance and, more importantly, the importance of fighting for it. (Through the strong-willed and independent Leslie, Giant also champions gender equality and feminism, a very enlightened stance for the Fifties.)
After establishing its major players rather quickly, Giant follows them for nearly 30 years in a sprawling, complex story rich with meaning if light on believability. Like everything in Giant, the plot is a larger-than-life tale of immense wealth and power, rivalries and jealousies, risky passions and terrible tragedies. Nothing about life on the ranch is understated; this is Texas, after all.
Nearly 60 years after its release, Giant remains surprisingly watchable; it has stood the test of time better than many films of its genre and era. It's a solid piece of filmmaking, sufficiently entertaining to feel shorter than its 201-minute running time. And it deserves its iconic status not only for its audacious scope and unforgettable characters like Jett Rink, but also for its daringly progressive social views and sharply critical take on Texan society. (Much has changed in Texas -- but much has not. Giant's depictions of sexism, racism and poverty remain all too relevant today. If the Benedicts' great-granddaughters lived here, they would be fighting a bitter battle for their reproductive rights. The descendants of the Riata ranch's Hispanic maids, cooks and ranch hands would likely be just as poor and disenfranchised.)
While Giant may be the most Texan of Texas films, this does not mean it's the best of Texas films. It's highly regarded but still very much a Fifties melodrama, with a sometimes overcooked emotional tenor. It plays to every ridiculous midcentury Texan stereotype, taking place in a yee-haw world of mega-ranches, rags-to-riches oil fortunes, arrogance and ostentation. (The reality was of course quite different. By the Fifties, Texas was largely urban and middle class; most Texans lived in cities and never rode a horse or roped a cow. Their only contact with oil was at gas stations.) Also, Giant's characters are mostly two-dimensional (we know almost nothing about their backstories), and their fates are somewhat predictable.
Still, it's not surprising that Giant was a huge success, earning $12 million during its initial release and becoming the highest grossing Warner Bros. film up to that that time. (The studio no doubt was relieved, as the movie's $2 million budget had ballooned to more than $5 million. Again: Everything's bigger in Texas.) Giant also garnered 10 Academy Award nominations, and Stevens took home the Best Director Oscar.
Giant is imperfect, but it's such a Texas pop-cultural cornerstone that it's a must-see movie for any student of Texana or film history. Like many vintage Texas films, it's also a terrific time capsule, with great scenes of early and mid-20th century life (albeit a life most people never knew) and some surprising casting. (Fans of Dennis Hopper may not recognize him as Bick and Leslie's son, Jordan Benedict III.)
Giant is available online, but it's worth springing for the two-disc special edition DVD. The special features include three documentaries about the film, a New York premiere TV special, behind-the-scenes footage, a commentary audio track, trailers, galleries of stills and documents, and production notes. A similar three-disc Blu-ray also is available.
Austin/Texas connections: Giant was filmed outside of Marfa and Valentine, as well as in Arizona, Virginia and California. (The skeletal remains of the Riata ranch house are a major Marfa tourist attraction.) Ubiquitous Western character actor Chill Wills (Uncle Bawley) was born in Seagoville. Fran Bennett (Bick and Leslie's daughter Judy) was born in Fort Worth. Several Texas-born actors appear in minor roles, and many Marfa residents served as extras, bit players and crew members.