Movies This Week: August 29 - September 4, 2014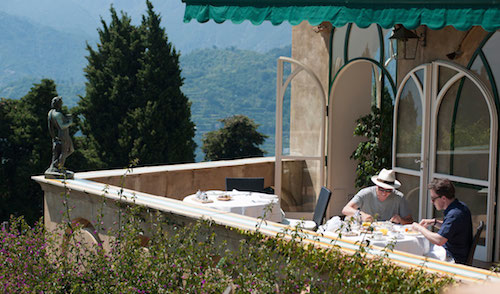 Heading into a three-day holiday weekend, it's fairly quiet in terms of blockbuster releases (it won't be a surprise if Guardians Of The Galaxy continues to top the box-office chart despite recent newcomers), but Austin has plenty of specialty screenings to catch your attention.
Austin Film Society is screening Roger Corman's bizarre postapocalyptic 1971 film Gas-s-s-s screening tonight and again on Sunday afternoon in 35mm at the Marchesa. On Wednesday night, AFS will also be offering a preview screening of No No: A Dockumentary (Caitlin's review) with director Jeffrey Radice, producer Mike Blizzard and editor Sam Wainwright Douglas in attendance. The film, which premiered at SXSW earlier this year, tells the story of how Dock Ellis pitched a no-hitter while on LSD in the 1970s. It's expected to open at Alamo Drafthouse South Lamar next weekend and will also be available on VOD. We also get a new Essential Cinema series, "Masterpieces of Polish Cinema, Selected by Martin Scorsese," which will start Thursday night with Andrzej Wajda's 1958 classic Ashes and Diamonds.
Only a few more films are left in this year's Summer Classic Film Series at the Paramount Theatre, which wraps up next weekend. You can catch a 70mm print of Kubrick's Spartacus this evening and then a 70mm print of Indiana Jones and the Last Crusade on Saturday and Sunday. On Wednesday and Thursday you can catch a double feature of two of the best films of the 50s: Sirk's All That Heaven Allows and Laughton's The Night Of The Hunter, both in 35mm.
"The Complete David Lynch" series closes out this weekend with the final film of the "influences" sidebar, Fellini's 8 1/2 in 35mm on Saturday and Sunday at Alamo Ritz. Alamo will also screen Werner Herzog's My Son, My Son, What Have Ye Done (Slackerwood review), a film that Lynch produced, in 35mm on Sunday afternoon. On Sunday night, the Ritz is hosting a double feature of the Drafthouse's new doc The Dog, along with Dog Day Afternoon. Other rep bookings at the Ritz this week include Charlie Chaplin's The Gold Rush (restored 35mm print, Monday), A Nightmare On Elm Street (35mm, Monday and Tuesday), A Nightmare On Elm Street 2 (35mm, Terror Tuesday) and a Robin Williams Memorial Screening of Popeye (Wednesday).
Alamo Kids Club returns to the South Lamar location with a 35mm screening of The Neverending Story II on Saturday. This is a free screening, but seats are first come, first served. South Lamar will also be featuring a 35mm screening of Hedwig and the Angry Inch on Sunday night and a Hedwig tribute band will play for free afterwards at The Highball. They've also got David Anspaugh's 1993 football drama Rudy on Monday and a Mood Indigo feast on Thursday night.
Back To The Future is on deck Monday night at both Alamo Lakeline and Alamo Slaughter Lane and a brand new 4K digital restoration of Jaws is also hitting town this week, screening at Alamo Village on Monday, Tuesday and Thursday with South Lamar also hosting it on Thursday night. Alamo Lakeline has Slamdance On The Road stopping by on Sunday. They will feature a double feature of two documentaries from this year's fest: Elliott and Skanks.
Cinema East is wrapping up their summer series this weekend with the long distance relationship drama The Heart Machine (my SXSW review). Check it out on the lawn of the French Legation Museum on Sunday night, doors are at 7 and the film will begin at 9.
Lastly, Ghostbusters has earned a full-on reissue in theaters across the country (for one week only) for its 30th anniversary. It has full showtimes at Alamo Lakeline, Alamo South Lamar, AMC Barton Creek, Cinemark Hill Country Galleria and Regal Gateway. If you've never seen it on the big screen, this 4K restoration is worth catching with a crowd.
Movies We've Seen
The Congress - Ari Folman, the visonary director behind Waltz With Bashir, has teamed up with Drafthouse Films for his latest effort which gives Robin Wright a unique opportunity to play an alternate reality version of herself. In her review, Elizabeth describes the film's mood as "dark and troubling," nothing that the "slowly-spun story" is "utterly novel and visually striking." (Alamo South Lamar and select weekend shows at Alamo Slaughter Lane, also available on VOD)
The Trip To Italy (pictured above) - Steve Coogan and Rob Brydon are back with director Michael Winterbottom for another comical road trip, this time eating their way through cities like Liguria and Capri. Don says that it's "not as satisfying as its predecessor" in his review, but adds that "the formula may be enough to satisfy The Trip's fans once again." (Alamo South Lamar, Violet Crown Cinema)
Also Opening In Austin
As Above, So Below - In this found footage horror film, archaeologists go on the hunt for treasure deep below the streets of Paris. Something tells me that they don't find it. The Hollywood Reporter claims that the movie only has "one or two genuine scares," so you should probably choose more wisely this holiday weekend. (wide)
A Five Star Life - A modest hit at home in Italy, this luxurious drama follows a woman (Margherita Buy) who tours the finest hotels in the world as a critic for a hotel-rating company who scrutinizes their services. (Regal Arbor)
The November Man - Pierce Brosnan plays an ex-CIA agent who comes out of retirement for one last mission. Based on Bill Granger's novel There Are No Spies, this puts the former James Bond back on the big screen in a spy thriller. (wide)