Review: The Trip to Italy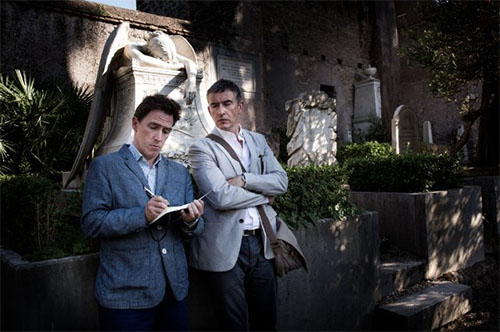 The Trip to Italy is easily the most sumptuous movie of this year, taking us to fine restaurants with stunning Italian surroundings as we listen to a soundtrack of classical music.
But like a tasty meal with somewhat stingy portions, The Trip to Italy isn't fully satisfying. Or at least not as satisfying as its predecessor, the hilarious 2010 film The Trip.
The sequel reunites Steve Coogan, Rob Brydon and writer/director Michael Winterbottom for another culinary-centered road trip, this one to the Italian locales of Liguria, Tuscany, Rome, Amalfi and Capri. (Like The Trip, The Trip to Italy is a theatrical cut of a three-hour, six-part BBC TV series.) Coogan and Brydon once again play slightly fictionalized versions of themselves as they tour Italy in search of great food, lodging and sightseeing. To give their adventure some literary gravitas, they travel to sites visited by the English romantic poets Lord Byron and Percy Bysshe Shelley, who spent time together in Italy starting in 1818.
As in The Trip, the two comic actors spend much of their time engaging in witty, sophisticated and mostly improvised banter about everything from Italian history and Batman to Alanis Morissette and the vagaries of middle-age life. (There are also their requisite impersonations of Michael Caine and other cinematic royalty, which are funny if less original this time around.)
Coogan and Brydon's riffs, musings and observations drive the movie, which like The Trip is mostly plotless. There is a one-night affair, a somewhat awkward reunion with a character from The Trip and a bit of poignant character development and backstory as we learn more about the actors' family lives (the families are fictional). But for the most part, The Trip to Italy just invites us along for a loosely planned ride with two entertaining traveling companions.
This structure isn't a bad thing, of course, and Coogan and Brydon are more than up to the task of keeping us engaged while not much happens. Their snarky, dryer-than-dry one-liners abound, and some of them are hysterical. (My favorite is when Brydon asks Coogan, "Where do you stand on Michael Bublé?" Coogan's response: "His windpipe.") They also have some interesting things to say about keeping their careers alive after more than two decades -- and keeping their sex appeal alive as they approach age 50.
But as clever and talented as Coogan and Brydon are, they can't keep The Trip to Italy from falling into the trap that snares too many sequels: It's pretty much the same movie as the first installment. There are some differences beyond just the geography -- The Trip to Italy is more about the journey than the food, and Coogan and Brydon reverse roles a bit. (Brydon is more unhappy and ambitious, while Coogan is more settled and content.) But the basic formula is the same and feels slightly tired this time, because we've heard most of it before. The Trip to Italy may take us new places, but it breaks no new ground.
Then again, the formula worked very well in the first outing. And when wrapped in gorgeous new backdrops -- Italy never looked more inviting, thanks to James Clarke's lush cinematography -- and peppered with indulgent Italian repasts of pasta and seafood and the finest wines, the formula may be enough to satisfy The Trip's fans once again. Still, The Trip to Italy would be a far tastier second course if it were fresher and more daring.