At the Texas Premiere for 'Sin City: A Dame to Kill For'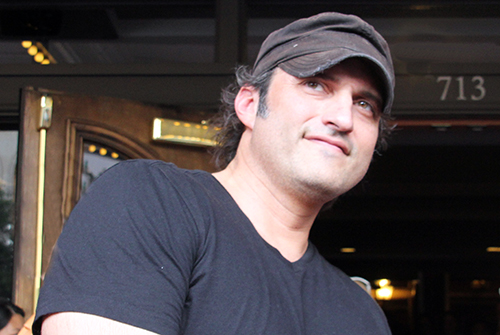 Sin City: A Dame to Kill For had its Texas premiere at the Paramount Theatre last week, and writer/director Robert Rodriguez was on the red carpet for the hometown screening that benefited the Austin Film Society. Unfortunately co-director/co-writer Frank Miller missed his flight and with back-to-back premieres -- Los Angeles, Austin, New York -- it was not possible for him to be at the Austin screening.
Rodriguez said he made Miller a co-director because he knew visual storytelling, and as a fellow cartoonist Rodriguez knew Miller would love the experience.
"It's exactly the same thing, but you are using a camera and your paper characters will now talk to you because they are actors, and that will give you the biggest thrill." Additionally, Rodriguez told Miller that he would "be able to tell backstories that aren't even in any of your books.
Local and world-famous musical artists with roles in the film were out in full force at the screening, more than making up for the lack of lead actors and actresses.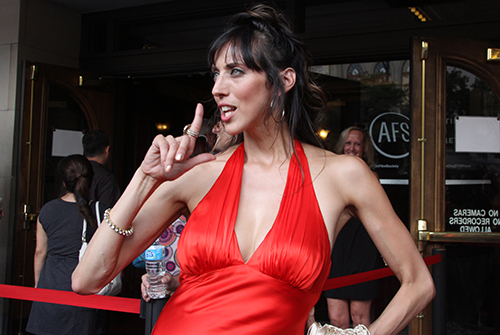 Rodriguez's sister, local musical performer Patricia Vonne, was entertaining on the red carpet as she posed in a stunning red dress. Vonne had a supporting role in the film as Dallas, one of the women of Old Town.
Disturbed lead singer David Draiman and his wife Lena Yada (seen above) also made an appearance. Yada has a small uncredited role in Sin City: A Dame to Die For.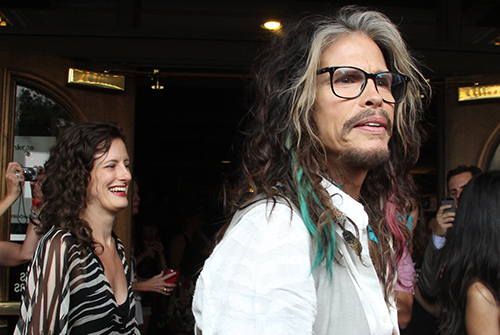 Steven Tyler of Aerosmith made a quick entry into the Paramount, but not before hamming it up a bit for the camera. I was fortunate to catch a few shots of Tyler on the red carpet with AFS Associate Artistic Director Holly Herrick (seen above at left) nearby as she helped him get into the theater.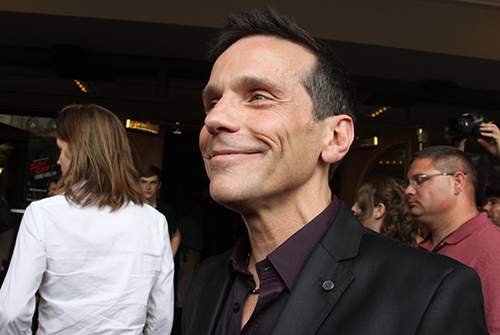 Frequent Rodriguez collaborator and award-winning musical composer/producer Carl Thiel was in attendance. Thiel scored Sin City: A Dame to Die For along with Rodriguez, and mentioned that they borrowed the main theme from the first Sin City film, weaving it through all the stories.
"On top of that, we had different themes for different characters, so each particular story has its own little signature," Thiel added. It was a challenging balance to try and keep them all within the same world, but it's still giving them each their individual attention."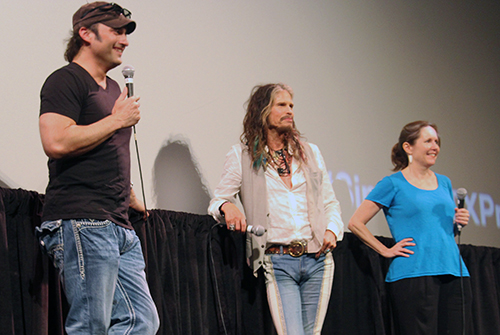 A Q&A took place immediately after the screening, and Rodriguez was joined onstage by Steven Tyler and AFS Executive Director Rebecca Campbell. Tyler sang the vocals for "Skin City," a song Rodriguez wrote especially for Sin City: A Dame to Kill For. When asked which of his own films is his favorite, Rodriguez said he'd pick the Spy Kids films because of the personal connection to his own family. [Ed. note: Coincidentally, Elizabeth is revisiting Spy Kids for her Lone Star Cinema column this month -- look for it Wednesday.]
An afterparty at The Rattle Inn featured a perfomance for the VIP attendees by Rodriguez's band, Chingon. Attendees who were unable to get into the sold-out VIP area to see the band were still able to hear the music upstairs, where Odd City Entertainment was onsite with Sin City: A Dame to Kill For posters, by UK artist Paul Shipper. Austin Books & Comics was also onsite selling Frank Miller's popular Sin City graphic novels.
Sin City: A Dame to Kill For is currently in Austin theaters; check out my review.
[Photo credits: All photos by Debbie Cerda, all rights reserved.]