Are You Following Austin Film Twitterers?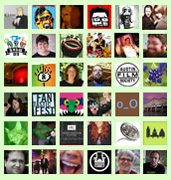 Last year, I compiled a list of Austin film-related organizations and film geeks who had Twitter accounts, which turned out to be very popular. I realized last week that the old list is out of date; many new people and groups have started using Twitter to share news and chat. A lot of those tweets are about Austin film.
As a result, I've created a page on Slackerwood to keep track of all the Austin film-related Twitter accounts, whether they're individuals who talk about lots of other things too, or news feeds. Check it out. You'll find a permanent link to the page in the left sidebar. If you think of someone I've missed, just let me know and I'll update the page.