Toronto International Film Fest Lineup Includes a Slice of Austin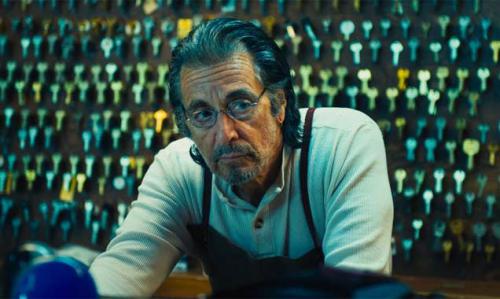 The Toronto International Film Festival runs Sept. 4-14 this year, and local director David Gordon Green, Austin-frequenter Jason Reitman and Austin native Ethan Hawke will all be premiering films there.
Green, whose previous Texas-filmed work includes Joe (Jette's review) and Prince Avalanche (my review), shot Manglehorn in Austin last year and North American audiences will have the chance to see it for the first time at TIFF. Manglehorn stars Al Pacino, Holly Hunter and Chris Messina and tells the story of a lonely locksmith whose heart is stuck in the past.
The film crew was spotted at various Austin locations last fall, including Sharp's Locksmith and Little Mexico on South First and the Driskill downtown. In Debbie's interview with Green at the Dallas International Film Festival in April, he said Manglehorn would be the final installment of his "Texas trilogy" and described the movie as "melancholy but full of hope and life and love."
Unlike Green, Reitman doesn't live in Austin; however, he's shown several of his films at Austin Film Festival and told audiences at his Labor Day screening last year that he'd always hoped to be able to film something here in town. That turned out to be Men, Women & Children, which explores how technology and the internet affect the lives and relationships of parents and their kids. The film stars Adam Sandler, Jennifer Garner, Rosemarie Dewitt and Judy Greer, and the screening at TIFF will be the world premiere.
Austin native and frequent Richard Linklater collaborator Ethan Hawke will also be making an appearance at TIFF. In an additional programming announcement made on Tuesday, it was revealed that Seymour: An Introduction, a documentary directed by Hawke, will be premiering as well. The film explores the life of pianist Seymour Bernstein.
No other films on the TIFF roster seem to be as strongly Austin-related as these three, but the lineup at this festival usually provides several clues about what may end up screening at Austin Film Festival, which runs Oct. 23-30. Will these end up playing for Austin audiences a few weeks later? In addition, a few of the Midnight Madness selections often end up screening at Fantastic Fest, which runs Sept. 18-25 (Adam Wingard's The Guest being a fairly safe bet). We'll see -- and in the meantime you can take a look at the full TIFF lineup.