Review: Prince Avalanche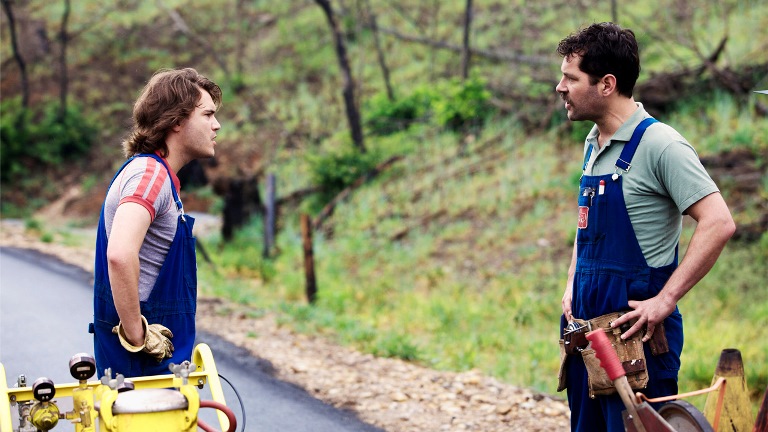 "Melancholy buddy comedy" isn't a description that comes in handy very often, but if you've seen any of Austinite David Gordon Green's previous films, this summary for his latest makes sense. With a resume that includes sensitive indies (George Washington, All the Real Girls) as well as mainstream bigger-budget fare (Pineapple Express and several commercials), it's no surprise to hear that Prince Avalanche, which screened at SXSW a few months ago, is a finely drawn story of friendship and loneliness that alternates between being goofy and existential.
Inspired by a 2011 Icelandic film called Either Way, Prince Avalanche is set in 1988 but filmed in the region of Texas destroyed by the Bastrop wildfires of 2011. Working as a road crew tasked with re-striping roads and installing signposts throughout the badly charred acreage are Alvin (Paul Rudd) and Lance (Emile Hirsch). Thrown together by circumstance, these opposite personality types are at first indifferent companions, but before long have gained enough knowledge about each other's neuroses and failed relationships to establish an awkward understanding punctuated by moments of anger and macho rivalry.
With only four onscreen characters and a compact 94-minute running time, at first it's easy to shrug Prince Avalanche off as just a sweet movie that's admittedly a little quirkier than your average summer offering. Having seen it twice now, I was newly impressed by the little details my SXSW-weary eyes didn't fully appreciate when I first saw the movie back in March (here's Elizabeth's review).
This time the original score (composed by local instrumental rock band Explosions in the Sky and David Wingo, also an Austin musician) stood out for being perfectly matched with Alvin's frustrated longings to reach a more noble plane of existence and Lance's slowly developing sense of self. This along with unexpected visuals and moments of small beauty help Prince Avalanche overcome a sense of unevenness that does arise a couple of times. (The supernatural elements that are suggested feel overly vague and hastily added.)
It's easy to forgive a couple of rough edges, though, especially because Rudd and Hirsch both give charming and solid performances. Each manages to take a pratfall or two without sacrificing the integrity of his respective character just to get a laugh. They resemble videogame characters Mario and Luigi in their matching overalls and aren't above fighting over a boombox, but beneath the surface of their actions is the slow burn of insecurity, pain and the desire to love and be loved just a little bit better.
These are flawed men who know a long road lies ahead of them, and watching them as they meander towards a shared epiphany is quite a pleasure. With minimalism and maturity, Green strides the line between comedy and tragedy to remind us that, especially in the aftermath of destruction, life is all about going forward.
Austin/Texas connections: As mentioned, the movie was shot in Bastrop, David Gordon Green now resides in Austin, and the score was composed by local musicians.