Movies This Week: July 25-31, 2014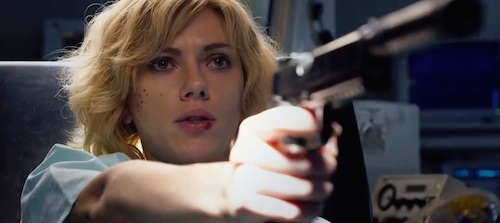 The Austin Film Society begins a very rare series this Sunday afternoon at the Marchesa called "The Sepia Screen." They'll be spotlighting 35mm "race" films from a special collection at Southern Methodist University from the days when movie theaters were segregated. This weekend, they'll be screening a 1946 short called Vanities, a 1946 feature called Dirty Gertie From Harlem U.S.A. and 1949's feature Souls Of Sin. Elizabeth's preview has details plus some insights on the series from AFS programmer Lars Nilsen.
On Tuesday evening, AFS is hosting Two Step, a locally-shot SXSW 2014 favorite (Don's review). Director Alex R. Johnson and composer Andrew Kenny (The Wooden Birds, The American Analog Set) will be in attendance for a Q&A. The current AFS Essential Cinema series is closing out on Thursday evening with Liv and Ingmar. After filling the Marchesa's screen over the last few weeks with some of their greatest collaborations, now you'll get to see this 2012 documentary that examines the relationship between Liv Ullmann and Ingmar Bergman. The film is presented from Liv's point-of-view, interviewed in the house that she lived in for many years with Bergman.
Over at the Alamo Drafthouse Ritz, tomorrow morning you can check out a free Kid's Club screening of the Disney classic Pete's Dragon in 35mm at noon. Later in the afternoon, they'll also be paying tribute to the late James Garner with a 35mm screening of 1964's The Americanization Of Emily, which also stars Julie Andrews.
"Lost in Darkness and Confusion: The Complete David Lynch" continues this week with Lynch's Wizard Of Oz homage Wild At Heart in 35mm (Monday evening as well as daily matinees). The Alamo website is now touting this as a print of the "X-rated" version, but I've yet to determine what exactly that means [Edited to add: The Drafthouse's Tommy Swenson reports: "I think there were really only a few frames that were cut out to bring it down to an R. It's a particular bit of violence involving someone's head. This print extends that moment just a second or two longer. Head trauma fans, don't miss it!"] There's also a David Lynch "mystery program" on Monday and the original Twin Peaks pilot episode will screen on Wednesday.
Alamo also teams up with Do512 this week for "Sound & Cinema" over on the beautiful lawn at the Long Center. On Wednesday night you can hear a performance by The Jeff Lofton Quartet and screen the original 1963 version of The Pink Panther. Other specialty screenings this week include an Afternoon Tea screening of Emma at Alamo Lakeline on Saturday afternoon, John Sayles' wonderful family film The Secret Of Roan Inish on Sunday morning at the Alamo Slaughter, The Last Dragon at Lakeline on Sunday evening and the Eastern Fury series brings us something called (and I am not making this up) Dirty Ho at Alamo Village on Tuesday night.
The Paramount Summer Film Classics Series is turning the spotlight on 1989 this week. On Sunday and Monday you can view a double feature of Parenthood and Field Of Dreams, Spike Lee's Do The Right Thing is paired with Michael Moore's Roger And Me on Tuesday and Wednesday and Back To The Future II is very oddly partnered with Road House on Thursday. All of these screenings are in 35mm and at the Paramount.
Movies We've Seen
Lucy - Luc Besson (La Femme Nikita, The Professional) returns to the big screen with an action thriller starring Scarlett Johansson and Morgan Freeman. I feel like I haven't liked anything Besson has been involved with since The Fifth Element, but I can't deny being tempted by this one even though the reviews are incredibly mixed. Caitlin pretty much shot my expectations down with her review, calling the movie "unfortunately dumb." (wide)
Also Opening In Austin
A Most Wanted Man - Dutch director Anton Corbijn's first feature since 2010's The American is most notable as being the last major role for Phillip Seymour Hoffman. The film debuted at the Sundance Film Festival earlier this year and is based on John Le Carre's 2008 novel of the same name. (Cinemark Hill Country Galleria, Regal Arbor, Violet Crown Cinema)
And So It Goes - Rob Reiner (When Harry Met Sally) is back with this romantic comedy aimed at an older audience starring Michael Douglas and Diane Keaton. Unfortunately, the reviews have been scathing -- calling it mediocre, predictable and unpleasant. (Cinemark Hill Country Galleria, The Moviehouse, Regal Gateway, Cinemark Tinseltown South)
The Fluffy Movie - This stand-up comedy film features footage from the last global tour by Gabriel "Fluffy" Iglesias. (Cinemark Southpark Meadows, Cinemark Tinseltown North, Cinemark Tinseltown South, Regal Gateway)
Hercules - Early reviews are surprisingly not bad for Brett Ratner's adaptation of Steve Moore's comic series, "a revisionist take on the classic myth." Dwayne "The Rock" Johnson stars alongside Ian McShane, Joseph Fiennes and John Hurt in this action-packed flick that Variety calls a "solidly entertaining popcorn pic." (wide)
I Origins - Michael Pitt and Britt Marling star in this sci-fi thriller from Mike Cahill, the director of Another Earth. (Regal Arbor)
Wish I Was Here - Zach Braff's follow-up to Garden State has been scrutinized fairly heavily since the crowdfunding campaign to raise part of the film's budget launched on Kickstarter. It has subsequently become quite a pinata for critics. One of my favorite quotes about the film comes from NPR's review, which says the film's "philosophical scope never gets much bigger than the slip of paper inside a fortune cookie." (Cinemark Hill Country Galleria, The Moviehouse, Regal Arbor)