Review: Lucy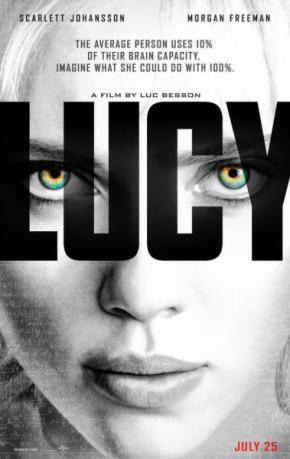 In Luc Besson's unfortunately dumb latest film, Scarlett Johansson plays a character whose brain is suddenly more powerful than anyone else's on earth. The events that unfold don't require much thinking, though; Lucy is a schlocky sci-fi that never lives up to the talent involved or the sense of anticipation it tries to establish.
The trouble starts when Lucy (Johansson), a young American going to school in Taiwan, gets caught up with an obnoxious cowboy who drags her unknowingly into a dangerous situation. With lightning speed, she's forced to act as a drug mule by a vicious crime boss (Oldboy's Min-sik Choi) aiming to hook people on a new conscious-altering synthetic substance.
Things take a turn when Lucy ends up absorbing a large amount of the strange drug herself, and from there she is no longer a normal human. Increment by increment (noted by in-your-face title cards along the way), she finds herself in possession of more and more of her brain's capacity (regular people supposedly only use 10 percent of their brains, and she's hurtling towards 100 percent). With each step she becomes better able to manipulate her surroundings through telekinesis as her human qualities fall away.
Part revenge fantasy, part science puzzle and a whole lot of nonsense, Lucy never stops to take a breath as it jumps from Taiwan to Paris and picks up speed as the heroine's brain continues to evolve. Terrible one-liners and illogical plot points prevent the movie from being anything close to immersive, however, and even Johansson's confident and dedicated performance isn't enough to save the fact that this movie is a mess of cliches and artlessly violent interactions between robotic Lucy and the cartoonish bad guys.
Over-the-top nature sequences (Tree of Life minus the subtlety) are jarringly intercut with standard action scenes, and the presence of Morgan Freeman as a professor who is Lucy's only hope of explaining what's happening to her is either very cheeky or extremely lazy. His scientist character explains what's going on like he's narrating a PBS nature show, but his booming voice and calm, comforting presence end up feeling like one of a million shortcuts taken to reach a payoff that never materializes.
Especially after seeing Johansson so recently succeed as an otherworldly killer in Under The Skin (watch this striking, eerie movie if you haven't seen it yet), her moments of kick-assery are missing something here because they're, again unfortunately, confined to unoriginal car chases and pointless shootouts. Have you ever been stuck as a spectator on someone's couch while they played one of those brainlessly violent video games? That's what watching Lucy often feels like.
Lucy mimics various popular and familiar science fiction movie mainstays (The Matrix, 2001: A Space Odyssey, Akira) but never establishes a solid identity of its own. Though it contains a few fun moments and moves quickly along, this scattershot story ultimately feels hollow.