AFS Screening Preview: Lars Nilsen on 'The Sepia Screen'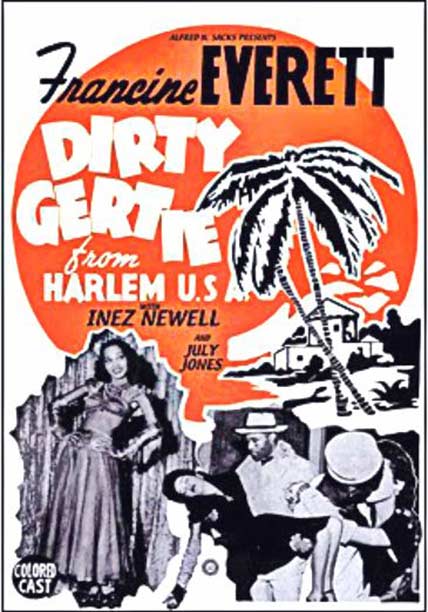 Southern Methodist University (SMU) in Dallas owns an archive of 1930s and 1940s-era films -- shorts, newsreels and features -- made specifically for black audiences of the time. These historic reels were found in a Tyler, Texas warehouse in 1983, and the team at SMU's G. William Jones Video and Collection has restored and digitized the movies.
You can view the films online, or if you're in Austin, watch a selection that Lars Nilsen, Austin Film Society Programmer, has compiled from the collection. "The Sepia Screen" program will play at the Marchesa on Sunday, July 27 at 2 pm [tickets info].
The 35mm films screening this Sunday include the short Vanities (1946), Dirty Gertie from Harlem U.S.A. (1946) starring Francine Everett, and Souls of Sin (1949).
I talked (via email) to Nilsen about this upcoming program.
Slackerwood: How did you learn about this specific archive at SMU?

Lars Nilsen: I'm a big fan of these films and I was researching them when I ran across the archive and naturally the wheels turned in my head. I contacted them last year and they told me the films were on tour in South America, but I made plans to eventually bring them here to Austin.
What are your thoughts on the cultural relevance of these forgotten works?

Nilsen: First off, they are not "art films" by and large. They are very low-budget commercial films and plot-wise, they are very similar to their mainstream B-movie counterparts. The interest and value of these films comes from the fact that they are made for black audiences. While the humor is typically quite broad, it's instantly more sophisticated because it need not be slanted to fit a white audience's preconceptions. It can be very "inside" subversive humor.
There's a sad side to the films as well. While there was work (though it was sometimes demeaning) for comics and character actors in "white" films, there was no place for black leading men and women there, so a talented performer like the beautiful, radiant Francine Everett (of Dirty Gertie From Harlem USA) could find few roles in a white film. She was no one's idea of a "mammy" and her very beauty and charm meant she was a misfit, since she was clearly off-limits as an object of attraction in the white world.
Do you plan to eventually showcase the entire collection as part of this series?

Nilsen: We will see if audiences respond. I hope so.