Movies This Week: July 2-10, 2014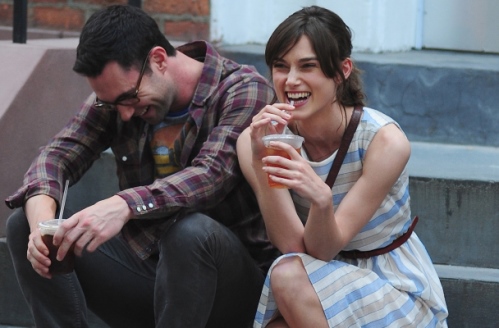 With a holiday weekend ahead of us, Movies This Week is getting an early run so you can determine which flicks are best worth your time. Since it's a few days ahead of schedule, there are a few repeats from last week's column here in the rundown of repertory screenings.
The Austin Film Society is launching a new Essential Cinema series featuring some of the best collaborations of Liv Ullman and Ingmar Bergman this Thursday at the Marchesa. Read Chale's preview for more details. The first movie of the series is 1966's Persona and next Thursday (July 10), you'll be able to catch 1969's The Passion Of Anna, both in 35mm. A newly restored 35mm print of Alain Resnais' Je T'aime, Je T'aime is on the books this Sunday afternoon and Monday evening. Also, catch a rare screening on Tuesday night of Eggshells, a 1968 film by Tobe Hooper that was shot in Austin (Don's preview from 2011). Hooper will be joined at the Marchesa by Louis Black for a discussion of the film.
"The Complete David Lynch" series begins tonight at Alamo Drafthouse Ritz (and continues through the end of August) with a 35mm print of Eraserhead, which also encores Thursday afternoon. The second film in that series, The Elephant Man, screens in 35mm next Monday, Wednesday and Thursday.
If you're looking to laugh hysterically for the 4th of July, buy tickets for the 10th anniversary screenings of Team America: World Police on Friday night at the Ritz, Lakeline, Slaughter Lane and Village locations. If you're a fan of Sylvester Stallone and the Rocky series, you can choose from three mystery screenings this upcoming Sunday evening. A different Rocky film will screen at the Ritz, Lakeline and Village locations with brand new Mondo prints available to purchase at each.
Back to the Ritz: Thursday night, Brooklyn rockers Conveyor will perform a live score to George Lucas' THX 1138. A brand new 4K restoration of The Beatles starring in A Hard Day's Night will screen Saturday, Sunday and Monday and Alejandro Jodorowsky's El Topo also returns to the big screen next Monday, Tuesday and Wednesday. The Alamo Lakeline will have a special one-off screening of John Cameron Mitchell's genderbending Hedwig And The Angry Itch this Thursday and a special 35mm presentation of John Woo's ultraviolent classic Hard Boiled next Tuesday.
The Paramount Summer Classic Film Series theme at the Paramount tonight and tomorrow is "Yankee Pride" with The Pride Of The Yankees and Yankee Doodle Dandy screening in 35mm, while the Stateside's double feature is on "Foreign Independence" with Powell & Pressburger's Black Narcissus and Ozu's Late Spring. Over the weekend, National Velvet and Who's Afraid Of Virginia Woolf? will play in a 35mm double feature at the Paramount on Saturday and Sunday paying tribute to Elizabeth Taylor while the Stateside will take on "women that should have never been roommates" in What Ever Happened To Baby Jane? and Persona. Next Tuesday and Wednesday, there are two beautiful films appropriately playing for an "Eye Candy" double feature of La Belle Et La Bete and The Red Shoes in 35mm at the Paramount.
Movies We've Seen
Begin Again - Once director John Carney returns with another musically-themed drama that was originally titled Can A Song Save Your Life? when it premiered at the Toronto Film Festival last fall. Now the film, starring Mark Ruffalo, Keria Knightley and (inexplicably) Maroon 5's Adam Levine, is generically retitled and hitting screens across North America. Jordan says in her review that Begin Again "hits just the right notes in the bittersweet scale to tug at the heartstrings." (Alamo Slaughter Lane, AMC Barton Creek, Regal Arbor, Violet Crown Cinema)
Earth To Echo - This PG-rated sci-fi family film was originally developed by Walt Disney Pictures for release last year, but the studio ended up selling it off to Relativity. Mike calls it a "charming mashup that pulls from classics like E.T. The Extra-Terrestrial and The Iron Giant. Parents will recognize the sources, but kids will love this lighthearted adventure." Check back later this week for Mike's full review. (wide)
Tammy - Melissa McCarthy takes the lead role and co-wrote this comedy directed by her husband Ben Falcone, which is why it's all the more disappointing that it's so unfocused and stacked sky high with fat jokes. Marcelena has our review and complains that while there are a "handful of funny jokes and one-liners peppered throughout the story" that, as is often the case, "most of them are in the film's trailer." (wide)
Also Opening in Austin
Deliver Us from Evil - Sinister director Scott Derrickson's latest effort stars Eric Bana as a New York cop who gets involved in a case of paranormal possession. The only thing that remotely interests me about this one is that Joel McHale turns in a rare dramatic role as a "tough, experienced cop." (wide)
Third Person - Paul Haggis (Crash) directs three interconnected stories taking place in Paris, New York and Rome with a star-studded cast that includes Liam Neeson, Mila Kunis, James Franco, Olivia Wilde and Kim Basinger. Unfortunately for Haggis, the critical consensus is that his latest effort is a bomb. The Rotten Tomatoes score is an abysmal 20% (scoring even lower than Tammy, which has to sting a little). (Regal Arbor, Violet Crown Cinema)