AFS Essential Cinema Preview: Liv Ullmann and Ingmar Bergman, Painfully Connected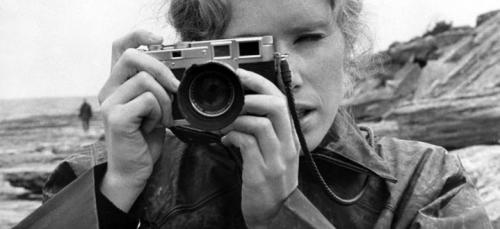 The next Austin Film Society Essential Cinema Series, "Liv and Ingmar," will run on Thursdays at 7:30 pm from July 3-31 at the Marchesa. The following column from programmer Chale Nafus provides some context for the films.
Marlene Dietrich and Josef von Sternberg, John Wayne and John Ford, Ingrid Bergman and Roberto Rossellini, Robert DeNiro and Martin Scorsese, Ethan Hawke and Richard Linklater. Throughout film history there have been directors who frequently work with one particular actor through whom they can realize their cinematic dreams. Familiarity with an actor's face, body, voice, mannerisms and psychological depths can provide a director a preview of how a movie might look and sound even before the cameras roll.
Such was the 12-year relationship between Norwegian actress Liv Ullmann and Swedish writer/director Ingmar Bergman. Together they made eight feature films and one television miniseries, beginning with Persona (1966) and ending with Autumn Sonata (1978). They also fell in love during the production of their first film together.
The filming of Persona (which screens July 3) took place on the remote Swedish island of Fårö, an island off the coast of an island, a place Bergman had loved ever since filming Through a Glass Darkly there in 1961. He was drawn to its solitude and stark natural beauty. It easily served as a setting that forced people to confront their own inner demons as well as those of the people around them. Such would happen with Bergman and Ullmann.
Liv says that during the production of Persona she would catch Ingmar watching her in between takes. She wasn't accustomed to such attention. Although the actress was 20 years younger than the director, the growing mutual affection quickly turned into passionate love. She describes that as one of the happiest summers of her life. But deterred by the great difference in age, she left for Norway once filming ended. Ingmar wrote her letters and then came to take her "home" to Fårö.
Even though her friends encouraged her to go with him, there were two problems. He was still married and his three previous marriages had ended in divorce, not the most reassuring way for the recently divorced actress to start a new relationship. But she was a film and stage actress and he was the world-famous director of The Seventh Seal (1957), Wild Strawberries (1957), The Virgin Spring (1960), Through a Glass Darkly (1961) and The Silence (1963). He was known for providing actors with some of the most challenging roles in cinema. And so Liv Ullmann moved in with Ingmar Bergman and her life would never be the same. Nor would his.
After the critical success of Persona, Bergman was ready to turn his latest screenplay into the film Hour of the Wolf (1968) with the pregnant actress portraying a pregnant wife terrified of her husband's emotional breakdown on a remote island. That same year they made Shame, a dystopian film about a military invasion of a Swedish island.
Both films were interesting, but The Passion of Anna (1969) would be closer to the reality of what Bergman and Ullmann were experiencing. In this powerful film (screening July 10), a 48-year-old man moves to a remote island, where he befriends an unhappily married couple and their young friend, a widow. Inevitably Andreas and Anna become lovers and even live together, but in her pursuit of honesty, the relationship begins to crumble.
The same was happening to Liv's relationship with Bergman. Making films with him was a wonderful experience, but living with him on Fårö was less so. They had a daughter -- Linn, born in 1967 -- but much of the time Bergman retreated to his study to read, write and listen to music. Such isolation was perfect for his method of creating screenplays, but Ullmann realized she was living out his dream, not her own.
Furthering her isolation, he denied her visits from friends. Bergman didn't even want her to go home to Norway for short visits. Furthering his control over her, Bergman became jealous of her previous loves and friendships. This jealousy turned into psychological violence. He even had a large stone wall built around the periphery of the property. Fårö was becoming her prison, her hell.
Echoing the words of many abused spouses and lovers, Ullmann says, "When I saw his insecurity, I became filled with tenderness and looked beyond his violence and injustice." But even as her understanding grew, she also knew she would need to take their daughter and leave. For a short time she and Linn lived in Norway, but international film productions lured her to America and elsewhere. One of the films, The Emigrants (1971), brought her a Golden Globe.
Throughout her newfound success abroad, Liv was in frequent contact with Ingmar. For a while he perhaps thought she would return to him. And indeed she did, but only as an actress and a friend, never again as a partner. In 1972 they made the unforgettable family drama Cries and Whispers (screening July 17), which reveals the childhood traumas and adult dilemmas of three sisters in late 19th-century Sweden. Drenched in vitriol and the color red, the film caused a huge sensation and won Bergman two Oscars (Best Picture and Best Director).
Then Bergman turned once more to television, a medium that had welcomed him since 1957. Turning away from sibling rivalry, he returned to his favorite battlefield, the one on which a husband and wife tear away their masks and slash each other's hearts and minds. A six-part TV miniseries, Scenes From a Marriage (1973) attracted larger Scandinavian audiences than most of Bergman's films. Scenes From a Marriage screens at the Marchesa on July 24.
Liv and Ingmar would then make three more films together (1976-1978) but would take a 25-year hiatus from co-productions until making the TV movie Saraband in 2003. Fittingly it was about a woman visiting her ex-husband after 30 years. They haven't talked in the intervening time, unlike Liv and Ingmar, who remained friends until the very end of his life in 2007. Summing up their relationship, Bergman once told Liv, "You are my Stradivarius." What more could an actor hope to hear from a writer/director?
Along with four feature films directed by Ingmar Bergman and starring Liv Ullmann, we will also present the revealing documentary Liv & Ingmar (2012) on July 31.
Chale Nafus is Director of Programming at the Austin Film Society.