See 'Eggshells,' a Trippy Time Capsule of 1960s Austin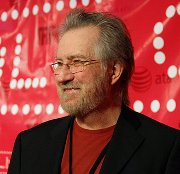 If you share my interest in Austin film history, don't miss this week's screening of Eggshells, the first feature by Texas Chain Saw Massacre writer/director Tobe Hooper (pictured at right).
Made in Austin in 1969 with a cast of Hooper's friends, Eggshells is every bit a late 1960s film, a psychedelic drama about a group of students sharing a commune-like Austin house. Much of the film follows the students' typical activities -- this being 1969, many of them involve nudity and drug-fueled sociopolitical discussions -- but there also is an oddly mystical twist. In the basement is what Hooper describes as a "crypto-embryonic hyper-electric presence" that grows into a bulb-like form and manipulates the characters' lives.
Confused? So was I before I saw Eggshells last year, but fear not: It all makes sense -- sort of -- when you see the movie. While Eggshells is often quite bizarre, it's an intriguing film that shares many stylistic and thematic elements with Hooper's later work. It's also a dreamily nostalgic time capsule, a gloriously colorful document of life in late 1960s Austin. Fans of Austin-made independent cinema will find it fascinating.
Sponsored by Screen Door Film, the Austin Film Society and the Texas Independent Film Network, the Eggshells screening is on Friday, March 25 at 7:30 pm at the Austin Film Society Screening Room, 1901 East 51st St. Seating is very limited, so buy your tickets soon.
[Photo credit: "Tobe Hooper, Texas Film Hall of Fame 2009 Awards," by Jette Kernion]