Movies This Week: June 13-19, 2014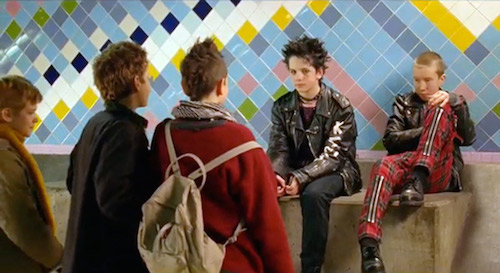 The Austin Film Society continues its "Rebel Rebel" series this weekend with a brand new 35mm print of Jamaa Fanaka's 1976 film Emma Mae. Tonight's screening at the Marchesa is free to AFS members, and the movie will play again on Sunday afternoon. AFS is also sponsoring a screening of The Three Burials Of Melquiades Estrada, starring Tommy Lee Jones, on Wednesday night at the Texas Spirit Theater (inside the Bullock Texas State History Museum). It's free for AFS members, as well as AFF, Cine Las Americas and Bullock Museum members. Julio Cedillo and producer Eric Williams will be there for a post-screening Q&A. Head back to the Marchesa on Thursday night for a 35mm print of Truffaut's Jules And Jim. The film is part of this month's Essential Cinema series on films Of World War I.
Alamo Drafthouse Ritz has programmed a weekend of classic biker flicks to celebrate the annual ROT Rally called "Hell's Angels On Reels!" Saturday will feature The Wild Angels, Sinner's Blood and She-Devils On Wheels while Sunday's got Run Angels Run, Hell's Angels Forever and The Losers. All six films will screen from 35mm (or 16mm) prints. Also this week at the Ritz, Russ Meyer's Up! screens on Monday night in a 35mm print from the Meyer estate and 1934's The Scarlet Empress plays on Wednesday as part of this month's "Dietrich & Von Sternberg in 35mm" series. Elsewhere at the Drafthouse, both Alamo Slaughter Lane and Alamo Lakeline have Indiana Jones And The Last Crusade screening digitally on Saturday and Sunday afternoons, and Alamo Village will be hosting Muay Thai Warrior on Tuesday night for its "Eastern Fury" martial arts series.
The Paramount Summer Classic Film Series has a James Bond marathon all set for Father's Day. There's a 35mm Sean Connery double feature of From Russia With Love and Goldfinger at the Paramount on Sunday afternoon up against a competing "Non-Connery" digital double feature of Goldeneye and The Spy Who Loves Me at Stateside. Advance ticket sales include a specialty themed hot dog from Frank and a themed martini, beer or mixed drink from the bar! Both Connery features also play on Saturday.
The Stateside has a documentary double feature of Salesman and The Times of Harvey Milk on Monday and Tuesday nights and then on Wednesday and Thursday, the theme turns to musicals. On those nights, you can catch Singin' in the Rain and Guys and Dolls in 35mm at the Paramount or try Jesus Christ Superstar and Annie screening digitally at the Stateside.
Violet Crown Cinema's monthly Criterion Presents series is taking place on Tuesday evening. They'll be turning the spotlight this month on Max Ophuls' 1953 French classic The Earrings of Madame de... Finally, it's worth mentioning that the former Alamo Lake Creek location is now operating as a second-run theater. The Lake Creek 7 features all-new digital projection with $2 screenings before 6pm and $3 screenings after 6 pm. This weekend, they're bringing late shows of Under The Skin and The Raid 2 back to town, so if you missed either of those films, you've now got a few more chances to catch them on the big screen.
Movies We've Seen
22 Jump Street - Channing Tatum and Jonah Hill are back and going undercover at a local college in order to infiltrate a drug ring. Gleefully offensive and jam-packed with meta-humor, this is one of those rare sequels that actually pays off. It's certainly not much different than the first film, but it's a fine example of "if it ain't broke, don't fix it." My review says "the movie is 150% in on the joke, repeatedly making fun of movie sequels and encouraging the stars to do everything 'just like last time' with a knowing wink to the audience." (wide)
How To Train Your Dragon 2 - The second film in an expected trilogy, this 3D animated feature recently debuted out of competition at the Cannes Film Festival where it earned rave reviews. Mike agrees in his review, calling it "a beautiful, fun, hilarious, exciting movie for the whole family, a great experience you do not want to miss." (wide, local screenings are available in 2D, 3D and digital IMAX 3D)
Ida - Director Pawel Pawlikowski's terrific 2004 feature My Summer Of Love introduced a global audience to Emily Blunt. Mixed critical reaction to his films that have followed have meant that they've struggled a bit to find an audience, but his latest drama is becoming an unlikely hit on the arthouse circuit. Shot in black-and-white and in the 1.33:1 Academy ratio, this Polish drama tells the story of a nun who is about to take her vows when she discovers she's Jewish. Elizabeth has our review and she seems to have desired more substance than style. (Regal Arbor)
We Are The Best! (pictured above) - Swedish director Lukas Moodysson hasn't released a film since 2009's Mammoth, but returned to the festival circuit last fall with this adaptation of a graphic novel written by his wife Coco. Finally being released domestically by Magnolia Pictures, this drama is one of the best reviewed films of the year coming in with a 96% Fresh rating on Rotten Tomatoes. It tells the story of a group of young teenage girls in 1982 Stockholm who decide to form a punk band even though they have no instruments. I'll be back on Monday with a full review. (Regal Arbor)
Also Opening in Austin
Borgman - This Dutch thriller, being released by Drafthouse Films, is also one of the best reviewed films of the year. The Wrap's Sasha Stone raved "in an era where there are very few truly surprising films, Borgman is one of the rare movies that manages to find something entirely new to say, with original, oddly drawn characters." (Alamo Village)
For No Good Reason - The local release of this documentary has been delayed for over a month, but it's finally opening today. Shot over a period of 15 years, it explores the life and artwork of Ralph Steadman, who is best known for his illustrations for many of Hunter S. Thompson's articles and books. (Regal Arbor)
The Signal - Remember when Focus Features was a mark of quality? That all ended at the end of 2013 when NBC Universal merged the specialty distributor with FilmDistrict and started doing whatever it is they're doing now. One of the best quotes on their latest release (which, to be fair, did play at Sundance earlier this year in their Midnight programming) comes from The Dissolve's Nathan Rabin, whose review says, "The spectacularly silly new horror/science-fiction hybrid The Signal is really three movies in one ... the film's ambition and eclecticism would be much more admirable if it didn't feel like three bad movies for the price of one." (wide)