Review: How to Train Your Dragon 2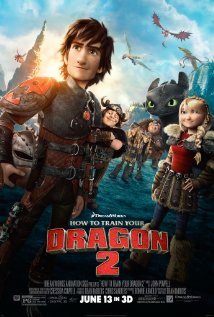 It has been five years since Hiccup befriended Toothless and brought peace between the Vikings of Berk and the dragons in How to Train Your Dragon. Now they're back for an adventure with new villains, increased stakes, and of course, bigger dragons in How to Train Your Dragon 2.
All of the original voice cast returns in this sequel by writer/director Dean DeBlois (Lilo & Stitch), and they are joined by Cate Blanchett, Djimon Hounsou (Amistad) and Kit Harington (Game of Thrones). The characters are already well established by the 2010 film as well as two seasons of the Dreamworks Dragons TV series that continued their story, but this film is almost entirely about Hiccup and Toothless, leaving the rest of their friends largely in the background.
A young man now, Hiccup (Jay Baruchel) no longer has to struggle for the approval of his father Stoick (Gerard Butler) and is full of confidence as the leader of Berk's dragonriders, but he grows restless, longing to explore and learn about the world as Stoick demands more time of him at home to prepare for his role as the future chief of the island.
On another of his frequent explorations, Hiccup discovers a dragon trapper (Harington) and learns of a terrifying new menace. This sets off a chain of events that takes the characters through a much darker, more grown-up story arc much like the progression of the Harry Potter series, which aged with its viewers. Stronger emotions, good and bad, are brought to the surface and explored through serious themes including duty, war, loss and budding sexual attraction. Strong topics for a kids' film, but weaved skillfully through a powerful action-adventure tale.
Visually, Dreamworks Animation has always held a reputation for producing the top films, but they've set a new bar with How to Train Your Dragon 2. New animation software and touch-screen technology allowed animators to directly manipulate characters by hand, and if you look closely, fans of other dragon-related series may notice some easter eggs including a nod to Anne McCaffrey's Dragonriders of Pern.
What the movie does best, though, is to bring to life the joy of flying and the powerful bond between a boy and his pet. How to Train Your Dragon 2 does that like no film since Old Yeller. It's a beautiful, fun, hilarious, exciting movie for the whole family, a great experience you do not want to miss.