Review: 22 Jump Street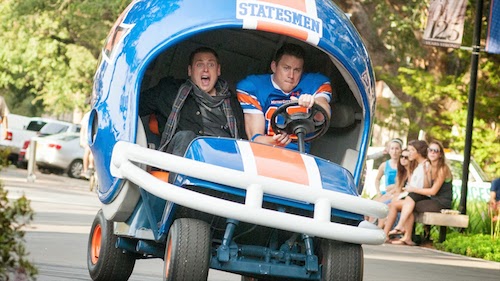 Fresh off the runaway success of The Lego Movie, the directorial team of Phil Lord and Christopher Miller returns with what will likely be summer's most satisfying comedy for adults. Even though the trailers didn't inspire much confidence that 22 Jump Street would actually be any good, it turns out that this wholly unnecessary sequel was worth waiting for.
Channing Tatum and Jonah Hill reprise their roles as Jenko and Schmidt, two cops on the hunt for drug dealers. While the first film followed the inspiration of the original Fox series by having them go undercover in high school, 22 Jump Street sends the guys to college. The movie is 150% in on the joke, repeatedly making fun of movie sequels and encouraging the stars to do everything "just like last time" with a knowing wink to the audience. So often, that's what we all hate about Hollywood movies, but it works perfectly here.
The wonderfully acerbic Ice Cube is back as their Captain, sending them to an area state school to find who is spreading around a dangerous new drug called "WHYPHY." Jenko gravitates towards the football team and pledging their fraternity, while Schmidt befriends some art students including a beautiful girl named Maya (Amber Stevens). He immediately tries to impress her by taking a bizarre detour into slam poetry that made me fondly recall So I Married An Axe Murderer.
While there is a lot of stellar comedic timing on display in 22 Jump Street, it's Jillian Bell (Workaholics, Eastbound & Down) who steals the entire movie as Maya's perpetually grumpy roommate Mercedes. Every time she's on screen, she completely outshines her far more famous co-stars. She may not get a lot of screen time, but this film should prove to be a great calling card for her.
To give much more of the threadbare plot away would be unfair. Part of the genuine fun to be had here is with the absurdity of the comedy and how the story becomes considerably less believable as it goes on. The overall success of the series rides on Tatum and Hill's natural chemistry and it won't be surprising to see them return for a third time, although the film's end credits mock the holy hell out of what seem to be every potential sequel idea.
22 Jump Street is not exactly reinventing the wheel, but it's an amusingly meta sequel that does not disappoint.