Summer Indies to Catch: June 2014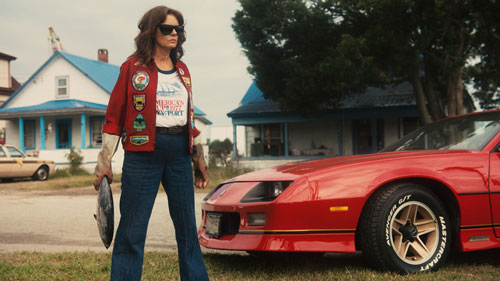 This month, the multiplex looks to deliver audiences Clint Eastwood's take on a hit Broadway musical, yet another Tom Cruise sci-fi/action vehicle and four, count 'em four sequels. Yet for anyone wishing to look a little deeper, beyond the icons and the franchises they'll find a collection of thrills, laughs, drama, conflict and tension from both renowned and up-and-coming filmmakers.
Words and Pictures (now in Austin theaters)
Australian director Fred Schepisi's filmography is a peculiar one, consisting of a collection of solid films (A Cry in the Dark, Six Degrees of Separation), which seem to resonate with cinephiles, but fail to become classics. His latest offering, the romantic dramedy Words and Pictures, may indeed follow suit, but its definitely one of his warmest and sincerest efforts to date. At a private school, a snarky English teacher (Clive Owen), is taken by a caustic art instructor (Juliette Binoche) new to the faculty. A love story at heart, Words and Pictures takes two actors, unknown for their romantic comedy chops, and throws them into said genre with two fun, meaty characters to play. Though the romance will be the draw for most audiences, its the film's debate of writing versus art, and the overall question as to which is the greater form of human expression, that actually make Words and Pictures intriguing.
Night Moves (now in Austin theaters)
Few movies have ever been greeted with such praise for their use of suspense as Night Moves. When three avid environmentalists (Jesse Eisenberg, Dakota Fanning and Peter Sarsgaard) hatch a plan to blow up a hydroelectric dam, nerves and paranoia begin to get the better of them as they begin to question they safety of their surroundings as well as each other. Night Moves received high marks when it played at last year's Venice and Toronto fests, making it one of the indie circuit's most anticipated releases. While Night Moves' central plot has been applauded for its socially conscious themes, it's the film's suspense elements that have really stunned audiences with their high levels of potency. Add to this a trio of committed performances from the leads and you find yourself with an experience critics have described as bordering on Hitchcockian.
Ping Pong Summer (now available on VOD) (Debbie's Sundance review)
Local filmmaker Michael Tully's much-buzzed-about comedy Ping Pong Summer starts a video-on-demand and limited theatrical release (no word yet on Austin) following a string of festival accolades and standing ovations. In the summer of 1985, 13-year-old Rad (Marcello Conte) finds himself dealing with first crushes, hip-hop, local bullies and a newly-discovered love of ping pong. Featuring such brilliant 80s touches as clothing, a soundtrack featuring New Edition, and Susan Sarandon in a standout role as the neighborhood outcast, Ping Pong Summer totally immerses itself in the decade it represents. It's Rad's journey and his use of ping pong as an outlet for life that give the film the heart it needs to avoid genre traps. A longtime passion project for Tully, Ping Pong Summer manages to be a sensitive and humorous coming-of-age tale wrapped in a greatly affectionate tribute to the 80s.
Trust Me (now available on VOD)
People have typically turned to such modern classics as The Player and Swimming with Sharks when it comes to examining the mentality of the Hollywood insider, usually offering up biting, satirical results. Trust Me, however, strays from the convention by offering up a humorous yet sincere portrait of the showbiz-hungry individual. When former child star and struggling agent Howard (Clark Gregg) discovers an emerging new talent in the form of 13-year-old Lydia (Saxon Sharbino), he fights rivals and naysayers to make her the star he knows she can be. Written and directed by Gregg (his second gig after the brilliant Choke), Trust Me once again shows his sharp versatility beyond his usual work as a character actor, with this story of an individual clinging to the only world he's ever known. Though typically seen as a low-life, Trust Me paints a surprising look at the Hollywood agent as a soldier fighting for someone he truly believes in.
Venus in Fur (on VOD 6/20, Austin theatrical release TBD)
Following his acclaimed work bringing 2011's hit play Carnage to the screen, Roman Polanski once again turns to the stage for his latest cinematic offering, Venus in Fur. Late one night, frustrated theater director Thomas (Mathieu Amalric) is about to go home after a string of disastrous auditions for his play's leading lady when Vanda (Emmanuelle Seigner), an unconventional actress, enters the theater for an impromptu audition. What unfolds is a two-person tour-de-force where the pair perform Thomas' sexually-charged play with the intensity of an erotic mind thriller. Polanski is careful to be true to the source material while injecting his own brand of filmmaking and trademark suspense into the proceedings. Indeed, it's the strong source material plus Polanski's polished skill that make Venus in Fur a true marvel to watch -- as tensions rise, the balance of power continuously shifts between its fascinating characters.
Hellion (6/27) (Debbie's Sundance review)
After winning raves at both Sundance and SXSW film fests, local filmmaker Kat Candler's stirring drama makes it to screens here in Austin this June. When the youngest member of an unstable family is taken away, it's up to a delinquent older brother (Josh Wiggins) and an absentee father (Aaron Paul) to repair the damage done to their family. A former AFS Grant recipient, Candler's Hellion began life as an acclaimed short film back in 2012, after which the director wisely, and thankfully, expanded the moving story to feature length. Featuring strong influences of heavy metal and motocross as behavioral expressions into one of the most moving stories of fathers and sons in recent times, Hellion is truly an emotional rollercoaster of a broken family trying to mend itself.