Sundance Review: Ping Pong Summer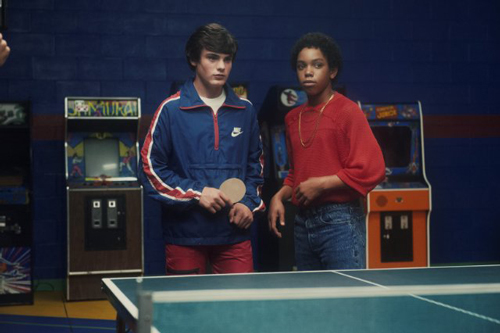 "Are you ready for the summer?" Those lyrics from the 1979 summer classic Meatballs sprung to mind when I watched Ping Pong Summer, a film written and directed by now-Austinite Michael Tully. Although Tully's comedy takes place later in 1985, his movie embodies the whimsical and quirky nature of both Meatballs and National Lampoon's Vacation.
Meet the Miracle family on their summer vacation to Ocean City, Maryland -- the quirky father effortlessly portrayed by John Hannah and Lea Thompson as the mother who innocently mistakes her 13-year-old son Rad (Marcello Conte) as engaging in pre-pubescent self-gratification. Rad's shyness isn't bolstered by his father's insistence of loading his state trooper vehicle down with all their luggage, or his mother's selection of a summer cottage next to the town's crazy lady Randi Jammer (Susan Sarandon), but that doesn't stop him from making a new best friend and crushing on the most desirable girl in Ocean City.
Rad is obsessed with hip hop music and dance as well as his beloved parachute pants. However the local bully Lyle Ace (Joseph McCaughtry) and his sidekick (Andy Riddle) from the more affluent part of Ocean City quickly set Rad in his place at the local arcade, barring him from his beloved ping pong. With the help of his new buddy Teddy Fryy (Myles Massey) and his mentor Randi, Rad attempts to win the girl and the game -- all while continuing to march to his own hip-hop beat.
Conte is perfect as Rad in his acting debut, and reminiscent of Chris Makepeace as Rudy in Meatballs. Hannah and Thompson are delightful as Mr. and Mrs. Miracle, but it is Sarandon who delivers an understated and effortless performance. Amy Sedaris is hilarious as usual in a supporting role as beach lovin' Aunt Peggy along with Robert Longstreet as Uncle Jim, who has some of the funniest dialogue in Ping Pong Summer.
A few of the supporting actors, especially Riddle and Massey, overplay their roles a bit, but Riddle draws quite a few laughs in his henchman role. In a film that doesn't take itself too seriously, it's easy to forgive and accept.
The cinematography and art design of Ping Pong Summer are such that I wish my family had an annual vacation spot like Ocean City to escape to for the summer. Especially impressive is a final climatic action sequence that takes place on a table tennis battleground.
Ping Pong Summer deserves special recognition for its offbeat dynamic score by Michael Montes and Eighties era music supervision by Jonathan McHugh, as well as its nostalgic and entertaining opening and closing title designs by Teddy Blanks.
Forget the overblown Hot Tub Time Machine -- for a nostalgic trip on growing up a white middle-class pre-teen in the Reagan era, check out Ping Pong Summer. If you're in Austin, you can check it out at SXSW in March.
Austin connection: Ping Pong Summer director Michael Tully lives in Austin. Austin Film Society Associate Artistic Director Holly Herrick is one of the film's producers.