Movies This Week: May 30-June 5, 2014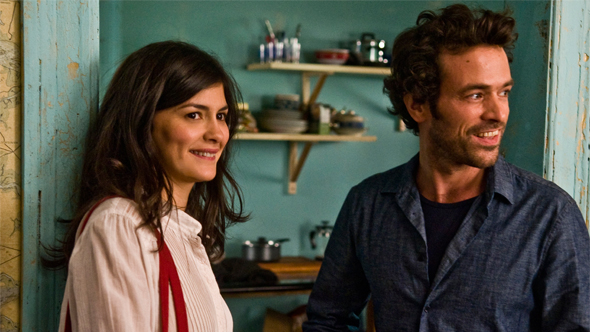 This weekend, the Austin Film Society has booked a 35mm print of Douglas Sirk's striking melodrama All That Heaven Allows for their new "Rebel Rebel" series at the Marchesa. One of my all-time favorites, the film screens tonight and Sunday afternoon. It is being released on Blu-ray next month from the fine folks at The Criterion Collection, but it's genuinely exciting to finally have a chance to finally see it projected on the big screen. On Monday evening, AFS is teaming up with The Nature Conservancy for a screening of Hanna Ranch, a documentary about a fourth-generation cattle ranch. Emily Hanna will be in attendance for the film. Powell and Pressburger's 1943 feature The Life And Death Of Colonel Blimp is screening Thursday evening at the Marchesa. The screening kicks off a new Essential Cinema series in June, "Films Of World War I."
The Paramount Summer Classic Film Series is delivering special sing-along engagements of The Sound Of Music this weekend. Saturday night's evening screening is a special benefit for the AIDS Services of Austin and will be hosted by Rebecca Havemeyer! This screening is intended for an adult audience and will include a "fancy dress costume parade at intermission." Family-friendly sing-alongs will be on hand Sunday afternoon and evening. Tickets for all three showtimes are $15 and there are no passes or flix-tix accepted. On Tuesday and Wednesday nights, the Paramount brings us a double feature of films set during the Great Depression: The Grapes Of Wrath and Sullivan's Travels will both screen in 35mm prints.
Specialty screenings at Alamo Drafthouse locations this week include: Swiss Family Robinson, the Marx Brothers in Go West and a 16mm Experimental Response Cinema showcase of the works of Helen Hill (Saturday at the Ritz); Dirty Rotten Scoundrels in 35mm (Sunday at the Ritz); a month-long celebration of Russ Meyer beginning with Faster Pussycat! Kill! Kill! in 35mm (Monday at the Ritz); Chef dinner parties (Tuesday and Wednesday at Slaughter Lane) and Shanghai Express in 35mm to kick off the new Dietrich and Von Sternberg series (Wednesday at the Ritz).
Movies We've Seen
Chinese Puzzle (pictured above) - Director Cedric Klapisch closes out his "Spanish Apartment" trilogy by catching us up on the life of Xavier Rousseau (played by the always charming Romain Duris). First introduced in 2002's L'Auberge Espagnole, Xavier is now in his early forties and still fairly unlucky in love, but now he's moved from Paris to New York to be near his children who relocated there with his ex-wife. I revisted both of the earlier films before settling in for Chinese Puzzle, but it will play just fine as a standalone movie for newbies. For more background, you can read my review here. (Regal Arbor)
Maleficent - Disney filters Sleeping Beauty through a revisionist lens with Angelina Jolie taking on the title role. This movie has been in development for several years. The art direction and effects work is top-notch, even when the story is incredibly thin. Jolie was born to smirk in front of a green screen and she relishes the opportunity here. While I didn't love the movie by any means, I also expect it to be a true crowdpleaser for its intended audience. I'll have a full review posted later this weekend. (wide, screenings available locally in 2D, 3D, digital IMAX and D-Box Motion Seating)
A Million Ways To Die In The West - The unexpected success of Seth MacFarlane's Ted pretty much guaranteed that he'd be able to do whatever he wanted as a follow-up. This raunchy comedy takes on the Western genre and obviously aims to hit Blazing Saddles-level laughs. It shouldn't be surprising to anybody who suffered through the red-band trailer that this flick doesn't come anywhere close to that lofty goal. Mike's review reports that "the characters are less than one-dimensional and uninteresting" and that "every gag with a remote chance of being funny is already spolied in the trailer." (wide)
Stage Fright - This horror comedy, which stars Minnie Driver and Meat Loaf, made a lot of fans at SXSW earlier this year, including Jette, who called it "great, goofy fun" in her review. While it's been available on VOD for awhile now, Alamo is bringing it in for two midnight screenings. Catch it tonight or tomorrow night if you want to see it on the big screen! (Alamo Lakeline)
Also Opening In Austin
Palo Alto - 27-year-old Gia Coppola enters the family business with this debut feature based on a short-story collection written by James Franco, who also stars. Manohla Dargis's review in The New York Times says, "Ms. Coppola captures that exquisitely tender, moving moment between fragile, self-interested youth and tentatively more outwardly aware adulthood, a coming into into consciousness that she expresses through their broken sentences, diverted glances and abrupt turns." (Regal Arbor, Violet Crown Cinema)