Review: A Million Ways to Die in the West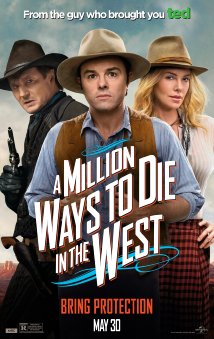 Crassness, unbridled racism, toilet humor, these are all things one familiar with his work expects from Seth MacFarlane, creator of three quarters of Fox's "animation domination" series with Family Guy, American Dad and The Cleveland Show as well as 2012's runaway hit movie Ted. One also expects to laugh one's ass off.
To my enormous disappointment, the laughs never came in A Million Ways to Die in the West, as I suffered through two hours that made MacFarlane's disastrous night of hosting the Oscars seem wildly successful in comparison. This movie wasn't him "not at his best." This was the depths of the dreck that didn't make it out of the writers' room on his TV shows, the proverbial poo flung at a wall that failed to stick.
Perhaps MacFarlane was too busy writing, directing, acting in and producing his take on Blazing Saddles meets There's Something About Mary to realize it was going to be this bad. Perhaps no one was around who could tell him. The real surprise is how many really big names attached themselves to this. Charlize Theron, Giovanni Ribisi, Amanda Seyfried, Neil Patrick Harris, Sarah Silverman and Liam Neeson may have all been excited to work on this after the success of Ted. Several of these actors are friends of his who have worked with him before. Their enormous talents can't save this flop.
Tthis thing plays like one of the cutaway Family Guy gags, something that's normally less than 30 seconds, stretched out to two hours. None of the timing works. The characters are less than one-dimensional and uninteresting. Every gag with a remote chance of being funny is already spoiled in the trailer, and MacFarlane stops to explain the rest of them right into the dirt with none of his usual panache.
With A Million Ways to Die in the West, Seth MacFarlane may have managed to achieve what the most contrarian Fox executives could not: There may be a million ways to die in the West, but the biggest corpse here is his career.