Review: Chinese Puzzle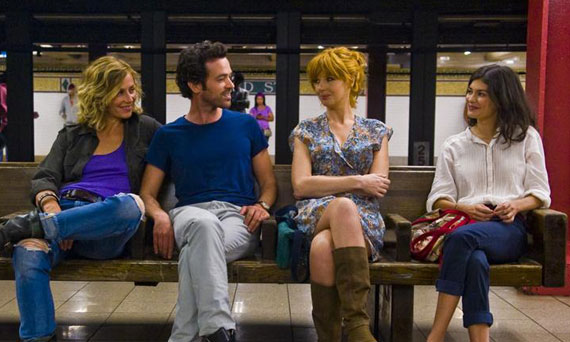 Over the course of 20 years, legendary French director Francois Truffaut created a series of five semi-autobiographical films that explored the life of Antoine Doinel. The character was introduced in 1959 and viewers around the world watched him grow up on screen from a 12-year-old in The 400 Blows into a man in his early thirties in 1979's Love On The Run.
With Chinese Puzzle, which opens Friday in Austin at Regal Arbor, Cedric Klapisch has completed his "Spanish Apartment" trilogy and given us a contemporary series that certainly owes a lot to Truffaut's Doinel films. When we first meet Xavier Rousseau (Romain Duris) in 2002's L'Auberge Espagnole, he is in his early twenties and taking off for the Erasmus student exchange program. He leaves France and his girlfriend Martine (Audrey Tautou) behind to spend a year in Barcelona studying finance. Xavier makes lifelong friends with the roommates he shares in a small Spanish apartment, but finds a lack of actual passion for his field of study.
Xavier's story jumps ahead five years in 2005's Russian Dolls. In this second film of the trilogy, he's left behind any semblance of being involved in the financial world and is focusing on being a writer. He writes a book based on his time in Barcelona and, after toiling away for several years with little interest, we discover that Xavier has found a publisher for his work. Even after becoming a published author, he is achieving more success as a ghostwriter for vapid celebrity biographies and by working on scripts for TV movies. His television work allows him to reconnect with his old roommate Wendy (Kelly Reilly), a Brit who has also become a successful screenwriter for projects on the BBC. Within the film's non-linear narrative, all of the Barcelona roommates find themselves once again reunited in Saint Petersburg, Russia for the wedding of Wendy's brother.
Chinese Puzzle picks up where that story left off almost a decade ago and reintroduces Xavier and Wendy's relationship. We find that they've had two children together and he is working on getting his third novel (which shares the title of the film) off the ground. After Wendy tells him she's met somebody new during her travels for work and wants to relocate to New York City with their children, and he decides to also pick up his life so that he can be close to the kids. Matters are further complicated when Isabelle (Cecile De France), another of the former Barcelona roommates, asks Xavier to donate his sperm so that she can have a baby with her lesbian partner.
Each film in the series works well as a standalone title, but after watching all three of them together over the last week there's no doubt that this movie will be more enjoyable if you've seen the earlier films. Klapisch is careful to embed references and tiny jokes throughout Chinese Puzzle that act as callbacks to the other two movies. They're mostly light enough that they won't interfere with the enjoyment of a newcomer to Xavier's world, but they may cause added laughter for viewers who catch them.
With the main characters now turning 40, we can see how their motivations and desires change. The film reinforces the notion that some people come in and out of your life for a reason, but they all act to shape the person you are in that moment (for better or worse in some instances). The friends and lovers in Xavier's life are joined in this film by the Big Apple, which is as reliable and photogenic of a character as any of them. The story cycle continues to explore the theme of being a stranger in a strange land but this final chapter in the trilogy is less meandering. It plays as more focused than the first two films because it significantly cuts down on the overlapping characters and competing storylines.
Maybe it's because I've grown up a little with these characters over the last 12 years too, but I feel like Chinese Puzzle is the strongest and most satisfying film in the series. Hopefully its success will ensure that Xavier and the people who populate his life will live to see a fourth installment on the big screen in the years ahead.
Austin connection: Tautou and Duris, who play on-again/off-again lovers throughout this trilogy, also star in Michel Gondry's Mood Indigo. That film will be released in the US by Drafthouse Films in July.