Sundance in Austin: An #ArtistServices Workshop Wrap-up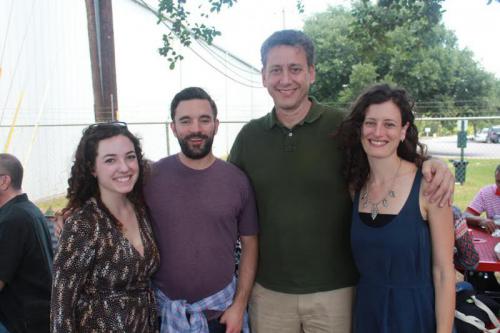 Last Saturday, the Austin Film Society successfully hosted the first ever Sundance #ArtistServices Workshop in Austin. #ArtistServices is an organization operated by the Sundance Institute that provides distribution support and assistance to Sundance alumni. They also work to educate up-and-coming filmmakers about all the latest trends in marketing and distribution, and have previously held workshops in Park City, Los Angeles, San Francisco and New York.
Three Sundance staff members (Joseph Beyer, Chris Horton and Missy Laney) were on hand for Saturday's event and had clearly worked closely with AFS to organize a well-run and enlightening collection of panels and conversation. In her opening salvo, AFS Associate Artistic Director Holly Herrick emphasized the workshop aspect of the day and encouraged attendees to ask questions at any point.
The first section of the workshop was specifically devoted to crowdfunding, and this topic continued to resurface throughout the day. In particular, inexperienced filmmakers often aren't aware of the tax implications and responsibilities that go along with using Kickstarter or Indiegogo to fund a project. These can be incredibly helpful tools, but it's important to know what you're doing before you start. Cameron Keng (a tax lawyer), Deena Kalai (an entertainment lawyer), Shannon Swallow (the head of Marketing Communications for Indiegogo) and Evan Glodell (the writer/director of Bellflower) were on hand to offer no-nonsense advice to filmmakers considering crowdfunding.
Later in the day attendees were introduced to David Larkin, the founder and CEO of GoWatchit. If you've yet to be acquainted with this company, it'll likely happen soon. According to Larkin, GoWatchit aims to "close the gap between discovery and consumption" by allowing people to immediately add films they come across online to a queue, and they will then be notified when a saved title is available to watch (be it at the theater, through VOD or elsewhere). This service has the potential to help indie films find bigger audiences and pick up momentum after festivals. As Larkin pointed out, "Queues are better than likes."
Bringing a different perspective to the mix was John Sloss, founder of Cinetic Media and co-founder of FilmBuff. Sloss sat down for an hour long chat with Sundance staffer (and his former assistant) Chris Horton and shared a few of his experiences, including when he oversaw the sale of the distribution rights for Little Miss Sunshine after it screened to a ravenous crowd at Sundance in 2006. His advice for filmmakers is to follow a path of "passion and rigor."
Another panel touched on the importance of key art -- director/artist Yen Tan, Mondo's Rob Jones and Melanie Miller of Gravitas were on hand for a colorful discussion -- and no detail was too technical to discuss in a section called "Digital Cinema Mastering 101 for Indies." The final session of the day took on the unwieldy topic of piracy, and despite the best efforts of the panel and the audience, a worldwide solution for how to make sure artists are paid for their work was not arrived upon.
During the lunch break I had the chance to chat with Joseph Beyer, the Director of Digital Initiatives for the Sundance Institute. He describes #AristServices as a "knowledge depository" and feels the workshops are a way of sharing what others have learned while also pinpointing up-and-coming topics of discussion. Beyer did a fine job of moderating panels throughout the day and closed the workshop by efficiently reciting a few takeaways. His approach was a good one, so I'm going to steal it and list a few of my own takeaways here:
The people in attendance ranged from aspiring to experienced; I talked to two women who had just written their first screenplay and were trying to gather funding and hire talent, and I also saw several local directors, producers and film festival organizers.
Crowdfunding is about more than just money, it's about building a community, finding a core audience, and according to John Sloss, it is "the sleeping giant of this industry."
During the piracy discussion, Mike Blizzard (a producer for No No: A Dockumentary) asked the panel for advice about how to prevent his film from being leaked online. (Their suggestions included "don't release the screener via Vimeo" and "use a watermark.")
"Behavior is the new demographic," declared Larkin. He went on to address the value of using consumer data when it comes to creating highly tailored advertising and marketing efforts, which many companies agree will replace traditional broad campaigns.
In terms of piracy, the goal of Sundance (and many other individuals and organizations) is to create a culture where people wouldn't even think of stealing an artist's work. Obviously this is easier hoped for than accomplished.
It was a day packed with information, and I can't imagine that a single person walked away without learning something valuable. In a realm where so much is changing at such a fast pace, an event like the #ArtistServices Workshop feels vital.
[Top photo: Missy Laney, Chris Norton, John Sloss and Holly Herrick. Second Photo: Deena Kalai, Evan Glodell, Shannon Swallow and Cameron Keng (via Skype). Photos by Chale Nafus, used with permission.]