Hill Country Film Festival Highlights Texas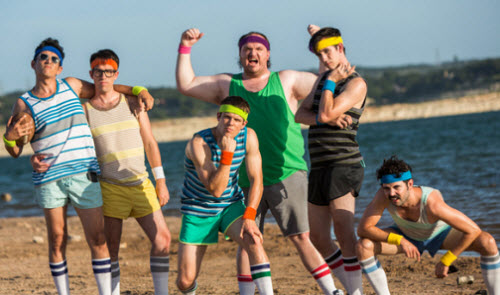 It's time again to start thinking about the Hill Country Film Festival, which runs from April 30-May 4 in Fredericksburg. I just booked my B&B (although is it really a B&B if there's no breakfast? B&NB, perhaps?) and am looking forward to the coziest film festival I've attended.
HCFF is always fun for me because I don't have to rush from venue to venue, the parties are small and people are very friendly, and the audiences always seem to be excited about the movies. The fest is using two theaters this year, but they're not far apart, although it means some tough decision-making is in order.
Austin-shot feature Intramural (pictured at top) is one of the fest's highlights this year. The closing-night film is directed by Andrew Disney, who was at HCFF 2012 with his comedy Searching for Sonny, and written/produced by Bradley Jackson, whose short The Man Who Never Cried screened at HCFF 2012 (both movies on the same day, in fact). Intramural, which debuted at Tribeca Film Festival this week, is about fifth-year college seniors participating in intramural sports.
Jackson also co-wrote another film at HCFF this year -- Lord Montagu, a short documentary about the British aristocrat, directed by Luke Korem.
But that's not all Texas filmmakers have to offer at a Central Texas film festival. HCFF Executive Director Chad Mathews was kind enough to give me a list of shorts from the Lone Star State, listed below.
In addition, I suppose I should mention a few other movies of note at the fest. (They do let non-Texans submit films and even accept a few.) Before I Disappear, which Don caught at SXSW, will screen here too. Elsa & Fred, starring Shirley MacLaine and Christopher Plummer, makes its Texas premiere. Another state premiere is You Are Here, the road-trip comedy from Matthew Weiner (Mad Men) with a cast that includes former Texan Owen Wilson.
And one movie you might have seen already is screening on Thursday night -- Bernie, Richard Linklater's delightful 2012 comedy, which also stars MacLaine. I've seen it at least twice at this point, but there's something to be said for watching a small-town Texas film in a small-town Texas theater with a local audience.
You can find the full lineup here, including parties, panels and other events. And you can find me in Fredericksburg starting next Thursday.
Texas shorts at Hill Country Film Festival: