Hill Country Film Festival 2012: Lone Star Saturday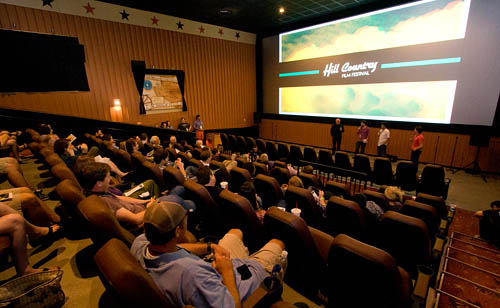 The Hill Country Film Festival programming this year included a number of blocks of short films, and on Saturday morning I decided to watch some shorts. After a quick breakfast (yay for having my own kitchen there), I zipped over to the Stagecoach Theater in plenty of time for the morning shorts program.
The main reason I picked this shorts program was because it included the Austin film The Man Who Never Cried. Debbie has been raving about this film for ages -- she visited the set and reviewed the film -- and I was pleased to have the chance to finally watch it myself. Filmmaker Bradley Jackson and producers Russell Groves and Andrew Lee were at the screening (pictured above, if a bit tiny).
The Man Who Never Cried is a sweet, sweetly funny tale about -- well, the title says it all. Ralph (Kier O'Donnell) has never been able to shed a tear. Now he works as a clown and tries to make people laugh instead. But when his father dies, he feels like it is high time he learned to cry like everyone else. The storyline may sound a little silly, but it's beautifully done with an expert cast led by O'Donnell and Jess Weixler.
In addition, the shorts program included the following highlights:
TwiLife -- This short documentary is a series of interviews with men and women over 60 about love, sex and death. Funny without being condescending; my only complaint was, why were all the interview subjects heterosexual? But that's a minor quibble.
Tooty's Wedding -- Unbelievably funny UK film that played Sundance this year, about a couple headed for a weekend of wedding festivities, and what goes wrong. Written by the actors playing the unhappy lead couple.
The Road to Jacob -- This dramatic film focuses on a man just released from prison who is hoping to see his young son for the first time. It generally avoids melodrama and has some nice touches and twists.
After the shorts ended, I indulged my hobbit side and found a second breakfast at a place called Sunset Grill, which did a very nice Eggs Benedict variation with crab cakes. I'd call it brunch but there was no cantaloupe. A few quick errands later, it was time to return to the theater for a feature film this time: 6 Month Rule.
You can read my review of 6 Month Rule here. One of the things I liked about HCFF was that I had a chance to see films I'd overlooked at other festivals, because at a fest like AFF or SXSW, you can only see a fraction of the excellent programming. 6 Month Rule had actually debuted at Austin Film Festival in 2011, and I had no idea until I wrote the review. But here in Fredericksburg, nothing was programmed against it, plus filmmaker/star Blayne Weaver very effectively persuaded me the night before that I really ought to give his movie a look.
Weaver was at the screening for a very nice Q&A -- it seemed most people liked the way that the movie didn't feel like it had to adhere to artificial romantic comedy stereotypes, especially in the final act. I noticed a number of people crowded around him in the lobby afterward.
My last film of the day was another one that had played AFF -- Searching for Sonny, which I had known about and was sorry to miss, especially after reading Mike's rave review and Jenn's interview with filmmaker Andrew Disney. I sat with Carrie Hoover and with a friend of hers who's a professor at TCU, and learned that TCU students made up part of the crew on the movie, which was shot in the Fort Worth area.
Searching for Sonny is a spoof of detective movies that centers around a high-school reunion -- a group of former friends (well, sort of) from high school are reunited to find out what happened to their missing friend Sonny, thus the title. Brian McElhaney and Nick Kocher of BriTANick join Jason Dohring as the not-terribly-bright trio of would-be investigators. It's got some unbelievably hilarious moments and a great spaghetti-Western-esque score. Disney says he was inspired by "comedy noir" such as Kiss Kiss Bang Bang and The Big Lebowski.
We all headed over to the Hangar Hotel afterwards for the awards party. Well, eventually. Someone got cocky and decided not to use her GPS and ended up passing the hotel and driving down a twisty-turny-scary section of Highway 16 for awhile, but eventually ended up at the party only a little bit tense. Texas was certainly represented in the awards: Sironia took home Best Texas Film, and Best Actress for Amy Acker. The Man Who Never Cried won Best Short Film. The Audience Award went to the short Honk If You Miss Randy Todd, which also won an audience award at AFF (and I believe filmmaker Joshua J. Smith, pictured below, is from Austin). And the Best of Fest (Cinema Dulce) award went to Searching for Sonny.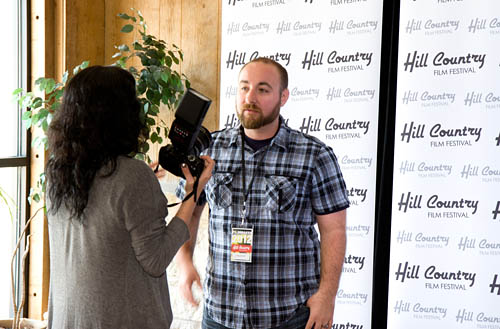 In addition, 6 Month Rule won Best Feature as well as Best Actor for Blayne Weaver, who was just thrilled, and the Oscar-nominated short Time Freaks (which I haven't yet seen) was awarded Best Screenplay.
The party took place in the conference space at the Hangar Hotel -- an airline hangar fixed up with a fun tiki theme, with a bar and a stage. It was a good place to mingle and the acoustics were surprisingly good. I found Andrew Disney to ask him a question that had bugged me during Searching for Sonny: one of his characters, an older gentleman, was named Chuck Finley, and was that a sneaky Burn Notice reference? He said no, the character had actually been partially named for someone he knew. No wonder I was the only one in the theater giggling every time that character's name was mentioned.
It was a really nice party and I was sorry to leave ... in fact, the whole hotel complex looked so cute that I returned on Sunday morning to the hotel diner for a truly excellent late breakfast, complete with what might be the best biscuits I have had in Central Texas.
In fact, I had such a nice time bumming around Fredericksburg on Sunday morning that I never ended up back at the Stagecoach Theater at all. I was too lazy to make the first movie, and I'd already seen (and liked very much) Satellite of Love two weeks earlier in Dallas. The 3D shorts sorely tempted me, but I wanted to be back in Austin for a 3 pm meeting.
I had thought about re-watching part of Satellite anyway, but stopped at a bookstore on the way that turned out to be simply amazing. If you are ever in Fredericksburg, reserve time for a trip to Berkman Books -- I was worried it would be some cutesy boutique with a few coffee-table books, but I was dead wrong. It was stuffed with vintage books of all kinds, and the people working there were quite knowledgeable (and fun to talk with). I left with a single Harlan Ellison book, which took a whole lot of willpower, I assure you.
I want to thank the Hill Country Film Festival organizers and volunteers for putting together a wonderful, friendly and cozy fest experience. I hope to return next year.
[Photo credit: Photos by Adam Boley, courtesy of Hill Country Film Festival, used with permission.]