Texas at SXSW 2014: John Karna, 'Premature'
At SXSW this year, I was able to interview three native-Texas actors from the movie Premature, which premiered at the fest (my review). Let's start with Houston native John Karna, who also starred in the 2012 Slamdance audience-award-winning comedy Bindlestiffs (Jette's Dallas IFF review).
Slackerwood: So this is your first big picture?
John Karna: This is, yeah. This is my first paid movie gig, which is awesome they trusted me to do it.
So Bindlestiffs was unpaid?
Karna: Unpaid, it was a passion project with my friends. We just decided when I was in high school, my friends and I -- Andrew Edison who directed and Luke Loftin who wrote it -- we decided to do this improv movie just for fun. And we finished it and submitted it, and it got into Slamdance and won the audience award and Kevin Smith was a huge fan of it, and that was pretty badass.
Did it get distribution?
Karna: You know, it's on Netflix, I think? [It is.] And it's on iTunes, which is pretty hilarious, because we were just a bunch of kids fucking around with a camera. It was a great time, and that kind of made me realize I'd love to do film. I was still going to college. I was studying musical theater, and I love singing and all that, but going to festivals... These people are so excited. I've never seen people more passionate about movies, and it makes you so excited about film and cinema. I love it.
You're from Texas?
Karna: Yeah, I am from Houston, Texas.
So, grew up in Houston, went to OU?
Karna: Went to OU for two years. Only two, and now I've moved to Los Angeles, but it's so nice being back in Texas. It's been about six months I've been in LA, and it's like, "God, I've gotta get back for some barbecue & kolaches!" But I love SXSW because of that. I love that they take the time to really talk about how Texas film has a different voice from anybody else in the country. They're scrappy and awesome and exciting and groundbreaking, and I'm really excited to see there's a shorts block with just Texas shorts screening here. And I'm really excited a friend of mine, Chandler Ryan who goes to Oklahoma right now, she's in a short called Road Kill Zoo -- I'm really excited to see that, because Texas film is just the coolest.
You majored in acting, ever considered what career you might have outside of acting?
Karna: I always wanted to be a pilot. I thought being a pilot would be the coolest thing. I think it's because I saw Catch Me If You Can as a kid, and I said that even pretending to be a pilot is cool.
Are there any actors or directors who inspire you?
Karna: I have phases where I will just go through an actor's body of work. This past summer I went through all of Benedict Cumberbatch's early stuff, like all the BBC mini-series he did, because he's just really brilliant, a really dramatic actor and has turned into this superstar, and I think that's really amazing. Leonardo DiCaprio is awesome. I think he's finding his renaissance, too.
Did you ever see What's Eating Gilbert Grape?
Karna: Oh brilliant, brilliant movie. I love that movie, and I'm about to go shoot a part in this movie called Sugar Mountain. It's shooting in Alaska, and it's a very small part -- I'm being a kid who is intellectually disabled. Leonardo DiCaprio has done autism, which is definitely a little different, but it was a huge, huge -- I mean he was great. He was just a 19-year-old who did the research. He was brilliant.
SW: So we talked about Houston, Tulsa, and LA. Do you have a favorite city?
Karna: I'm not gonna lie, this is the first night I've actually spent in Austin. Even living in Houston, I never spent any time in Austin. This place is awesome. The food is better than any. I went to this place called Moonshine last night. The moonshine they had is just delicious, and I had a chicken-fried steak with a peppermint sauce. So, I would say that right now, Austin's my favorite.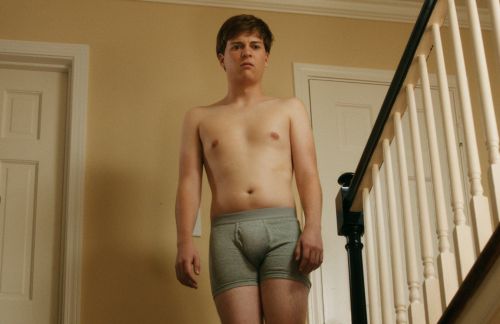 SW: Do you have any dream projects?
Karna: One of my big dreams is to be in a movie that, the fact that I'm here right now showing a movie at a film festival and people are really excited about it. That was why I wanted to get into movies in the first place. It wasn't for the huge big-budget movies, it was just to be able to talk to people who love film. You know, I think it would be great to one day be a superhero. Let's get that done.