SXSW Review: Premature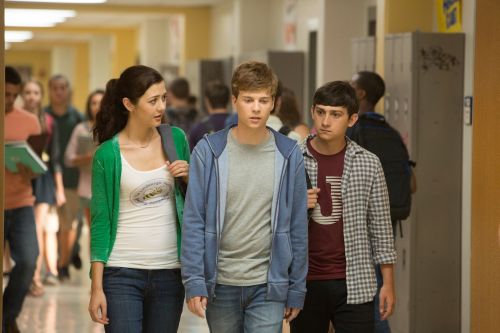 Ferris Bueller meets Groundhog Day in the raunchy teen comedy Premature, from first-time writer/director Dan Beers. Rated R for language and sexual themes, Premature is unafraid to push the boundaries of good taste in the pursuit of laughter.
Beers has assembled a dynamic and talented cast including native Texans John Karna, Alan Tudyk and Carlson Young (look for interviews with these three next week). Karna stars as Rob Crabbe, an average teenager who wakes up on the most important day of his senior year lying in a wet spot on his bed. The events of the day, including his Georgetown college interview with Jack Roth (Tudyk) and tutoring session with sexy vixen Angela (Young), play out until he finds himself in bed with Angela, prematurely climaxes and immediately finds himself again in his bed at home, starting the day over.
Cursed to continue repeating the events of the day, Rob tries to work out a solution with the help of his best friends Stanley (Craig Roberts) and Gabrielle (Katie Findlay). Karna's charisma and naturally keen comic timing help to overlook weaker moments of dialogue where the teens sometimes don't feel like authentic teens as much as people delivering adult lines. Some lines are followed with a touch too much dead silence, as if edited to allow for insertion of a laugh track, but after such stumbles the pace always picks back up and delivers genuine laughs.
A star like Alan Tudyk could easily outshine a cast of lesser-known talents, but this movie is Karna's, and Tudyk knows how to play well in an ensemble. The scenes with the two of them together are some of the funniest in the film, and Karna shows no discomfort as a newcomer working with such an accomplished co-star.
The R rating for a film about high schoolers makes Premature a difficult film to market. Too mature for teenagers and too immature for much of the adult audience, it's nevertheless a lighthearted fun bit of fantasy, worth a look if you just want to laugh and enjoy yourself.
You can catch Premature at SXSW one more time, screening today -- Saturday, March 15 -- at 4 pm at Alamo Drafthouse Ritz 2.