Dallas IFF 2012 Dispatch: Game Day Sunday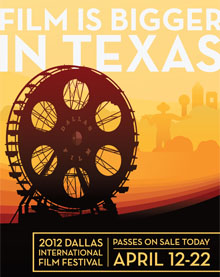 My Sunday at Dallas International Film Festival started almost identically to Saturday: Get up, have a reasonably healthy breakfast downstairs in the hotel, write and edit until time for the first movie. And like I did on Saturday, I headed to the Angelika for my first film, although I had to dress for surprisingly cool and rainy weather.
I wasn't entirely sure what I was seeing, though. The Dallas IFF schedule had a "TBA" listed at noon, and I couldn't find any info on what the movie was. So I thought I might check it out, and if it wasn't to my liking, I could go to the Brooklyn Castle screening, 15 minutes later. It turned out the TBA film had been canceled, a volunteer kindly let me know at the theater. (Note to DIFF: That would be excellent info to post to your otherwise informative Twitter account, in the future.) But as I said, it was no problem at all to jump in the line for Brooklyn Castle -- the longest line I'd stood in so far.
Brooklyn Castle was also the only entirely full house I experienced at Dallas IFF -- and at noon on a Sunday, mind you. Most of the other screenings I attended were fairly full, but for this one, volunteers were helping people find any empty seats and groups were splitting up to sit anywhere they could. There were a lot of kids, too ... and it was an extremely well behaved audience, possibly due to the engaging nature of the film. Two little girls in front of me were sharing a seat.
Brooklyn Castle (dir. Katie Dellamaggiore)
I was really glad to catch this documentary after missing it at SXSW, where it won an audience award. Brooklyn Castle is about Brooklyn 318, a junior high public school that consistently turns out the best chess players and teams in the country. The school and its students are very proud of this, and the chess players don't fit the usual chess-nerd stereotype at all. The school has a strong afterschool program where students can brush up their chess skills and prepare for tournament play.
Dellamaggiore takes a story that could be all too familiar and makes it touching by focusing on a few students, letting their personalities drive the film, while demonstrating the effect chess has on them. Rochelle is in eighth grade at the start of the film, and is hoping to become the first U.S. female African-American chess grandmaster -- she's close to gaining master status. But as she leaves 318 and heads for junior high school, she has to deal with many more priorities besides chess. Pobo is a lively seventh grader who, as he moves into eighth grade, wants to run for class president and be a chess champ. Alexis is a quieter young man whose parents are hoping he'll get into a top junior high school. And Justice is new to 318, commuting from the Bronx because he wants to take advantage of the school's superior chess program, as he's close to gaining master status even in sixth grade.
But we don't just get to see the top chess students. I was pleased to see Brooklyn Castle also spending time with Patrick, a student who likes chess but isn't terribly good at it when we first meet him. He's ranked #79 in the school (and damn! that school has 80 chess players, which is amazing in and of itself) and hopes to move up the ranks to number 55 and get to play in a chess tournament.
Brooklyn Castle shows the great effect that an afterschool program can have on students -- the kids interviewed are able to develop ambitious goals, and get into their preferred high schools. However, as the film progresses, the New York schools are having to deal with severe budget cuts, and more than once the chess program is in jeopardy. As it is, they are no longer able to travel to as many tournaments and maintain their reputation as a top chess program. It's not a subtle message, but the film conveys it gracefully without feeling like propaganda.
You don't have to know anything about chess (I don't) to enjoy this film, and the kids in the audience liked it as much as the adults. I hope Brooklyn Castle gets distribution so more people can see it -- Sony has bought the rights to remake the story as a feature, but I'd like to see the actual documentary out there.
Texas connections: One of the large tournaments in the film is in Dallas (Pobo dons a cowboy hat, which he seems to be born to wear), and Rochelle competes in a girls' chess tournament where the winner receives a scholarship to The University of Texas at Dallas.
After Brooklyn Castle, I managed to find a nice healthy lunch for once (salad, salmon, asparagus, hooray!), shopped a little at Mockingbird Station (no luck), and went back to the hotel for a little while to write. I was a little nervous about the film I planned to see at 7 pm. It had premiered at Slamdance, but it was made by Houston college students and sounded like it might be a badly made teenage ripoff of The Hangover. I prepared myself to be potentially bored, irritated and disgusted. I could not have been more wrong.
And I found out something else I was completely wrong about. Dallas IFF being in, naturally, Dallas, I had worn fairly nice shirts and capri pants all weekend. I got to my 7 pm movie, started looking for a seat, and noticed a woman carrying a Fantastic Fest bag. I sat near her and struck up a conversation, which is how I met Jenny from Red Carpet Crash.
I realized what a complete dumbass I had been. If I'd worn Fantastic Fest shirts all weekend, or my other movie-themed t-shirts, I might have caught the attention of other movie geeks and found more people to chat with at the screenings. Now I know, for next time. Admittedly, the Sunday night movie I attended was more likely to draw a Fantastic Fest crowd and less likely to attract the cocktails-movie-late-dinner Dallasites.
Bindlestiffs (dir. Andrew Edison, wr. Edison and Luke Loftin)
Imagine a live-action version of Beavis and Butthead, with slightly more realism -- only slightly -- and none of the business on the couch watching TV. Now imagine Beavis and Butthead spending a weekend in the nearby big city with a teenage Flanders from The Simpsons. That still doesn't begin to cover the jaw-dropping experiences in this movie. People who see movies with me a lot know I tend to say "Oh, dear God" at anything surprisingly appalling onscreen ... well, this was a dozen "Oh, dear God" movie, beating out A Very Harold and Kumar 3D Christmas and God Bless America.
Three suburban high-school boys -- John (John Karna), Luke (Luke Loftin) and Andrew (Andrew Edison) are suspended from school after drawing graffiti in protest of the school's banning -- and burning copies of -- Catcher in the Rye. They decide to spend their time off emulating Holden Caulfield, despite the fact that they haven't actually read much (if any) of the novel. They head for the city to get laid and get drunk and experience life to the fullest. In the meantime, the school's security guard (Will Fordyce) is extremely suspicious of the meanings behind the boys' graffiti, interpreting devious intentions.
However, these middle-class kids are so ignorant that they -- oh, hell, if I tell you, that would spoil it. If high-school boys are this clueless about sexual matters, this movie should serve as an excellent argument in favor of more and better sex education in schools. I'm hoping it's an exaggeration or else I fear for the future of our country. But I admit, the scene in which Luke gives John sex pointers is unbelievably funny.
What these kids do in Bindlestiffs is stunningly awful and you can't pull your eyes away. Again, this is exactly how I felt the first time I saw Beavis and Butt-Head back in 1993. I couldn't believe what I was watching, and that it was being broadcast on a major cable network, and parts of it seemed dreadful and moronic ... but I wanted to watch more. I am still trying to decide if the portrayal of and character reactions to a homeless woman were completely offensive or sharply insightful into the way some people perceive the homeless. Possibly both.
The performances are excellent, with a hint of sincerity and friendship that adds depth and balance to the shocking antics in the film. The last scene is downright sweet. Overall you would not believe this movie had been shot on a shoestring by filmmakers in their early twenties -- who started filming it while they were still in high school. I noticed a logo before Bindlestiffs for Kevin Smith's SModcast Pictures, and filmmaker Edison explained afterward that Smith has picked up the film for distribution, and will include it in his theatrical road-show tour this summer. It sounds like a good fit to me.
Texas connections: Edison and Loftin went to high school together in Houston -- in fact they were mentored by Austin-to-Houston filmmaker Mike Akel (An Ordinary Family), one of the film's producers. Edison and Loftin now live in Austin. The movie was shot in the greater Houston area.
Bindlestiffs seemed like the perfect end to a weekend of festgoing, especially since it was not what I might have expected from the Dallas IFF. But one more film had been recommended to me, and I decided to stick around. It turned out to be a great bookend with Brooklyn Castle.
Qwerty (dir. Bill Sebastian, wr. Juliet McDaniel)
"Klingon!"
The second I heard that from the main character in Qwerty, I knew I was going to like this movie. Or at least I hoped so. Zoe (Dana Pupkin) is just the kind of nerdy woman I would identify with -- fairly ordinary looking, solitary, somewhat shy, and in love with the written word. Her day job is at the DMV, making sure vanity license plate requests aren't dirty. She's a huge Scrabble fan who doesn't have the nerve to play with other people, she doesn't fit in with her family. While shopping one day, she meets cute (I can't resist) with Marty (Eric Hailey), another shy and solitary type, but somewhat more lonely and melancholy.
Zoe and Marty fall for one another and eventually become an adorable couple -- he encourages her word-nerdiness, she finds him the perfect job and helps out his homeless friend. It's all very sweet without being too deliberately quirky or sentimental, and it doesn't have that rote-by-numbers feel of many romantic comedies. The emotions, particularly the more negative ones, felt real and not contrived. And video geeks will be happy to see that Zoe owns a lot of VHS tapes.
Qwerty is a fairly simple movie and it's difficult for me to say more than, this was beautifully made and I hope you get to see it. It has no distribution yet but is making the rounds on the fest circuit, so keep an eye out, especially if you are a Scrabble fan. Director Bill Sebastian brought his cute new baby to the screening, too.
Texas connections: Bill Sebastian is from Dallas and went to SMU; he had a role in Clay Liford's feature Earthling. Austin filmmaker and graphic designer Yen Tan did the artwork for this film.
And that was it for me and Dallas International Film Festival for 2012. I drove back to Austin on Monday. But J.C. De Leon is there right now, watching more movies, so keep an eye out for his dispatches.