Movies This Week: March 14-20, 2014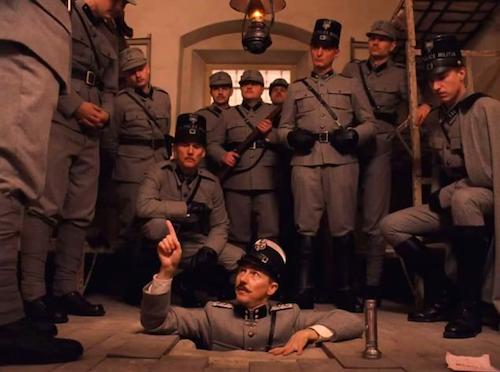 After such an active SXSW schedule, it's understandable if you need take a few days to recuperate. It will be another week or so before specialty screenings are back at full speed, but there are still a few standout titles to let you know about. Also, two of the biggest SXSW premieres from this week are hitting area theaters. For those of you who got shut out of those, you should have more luck now.
The Marchesa just spent its first year as a SXSW venue, so the Austin Film Society will be springing back to action again this week with some cool events. They've got the Academy Award-nominated documentary The Square as an area premiere on Tuesday night. Richard Linklater is back on Wednesday with Melvin And Howard, a 1980 selection from Johnathan Demme for his "Jewels In The Wasteland" series, and Essential Cinema has the 1997 Arabic film Destiny on Thursday.
The Alamo Ritz is firing up their 70mm projectors again for Alfred Hitchcock's glorious Vertigo. It screens from Sunday through Thursday as does Wes Anderson's last film Moonrise Kingdom which will be screened from a 35mm print (which is cool because the film only played digitally in town when it was a first-run title and the movie was beautifully shot on Super 16mm film stock). Also on 35mm this week, Christopher Nolan's Memento plays on Tuesday and Wednesday, and Thursday night brings back Anderson's The Darjeeling Limited for one show only. You can also venture up to the Alamo Lakeline for a Cinema Cocktails presentation of Scorsese's Casino on Sunday.
Movies We've Seen
The Grand Budapest Hotel (pictured above) - After breaking box-office records last weekend with the highest ever per-screen average in history, the latest effort from Wes Anderson is expanding slightly across the country (into less than 70 theaters). The extended Q&A with Anderson at SXSW was one of the hottest tickets of the fest, with the badge line at the Paramount completely filling up more than 90 minutes before doors opened. The real question becomes, was it worth the wait? Don isn't so sure. His review recommends the film, but warns that it's "not a bad movie. It's just not a great Wes Anderson movie." For super fans, there's a special feast screening at the Alamo Slaughter on Wednesday night that still has some tickets available. (Alamo Slaughter Lane, Regal Arbor, Violet Crown Cinema. The film will expand to additional area theaters on March 28.)
Veronica Mars - After a successful Kickstarter campaign, Veronica and damn near all of her pals from the cult classic television series have returned exclusively on the big screen. Well, sort of. Because backers of the project will recieve digital copies of the movie today for their support, WB is taking the leap with a simultaneous VOD and a "four walled" theatrical release at just 260 AMC theaters across the country. Elizabeth was in the audience at the world premiere during SXSW and she says in her review that "the core mystery is full of twists and turns, and [Rob] Thomas plays with dark and light in both lighting and plot." Even if this one only plays to hardcore fans, it's likely to be profitable after this first weekend, leading us all to wonder if we'll have to wait so long for Veronica to surface again. (AMC Barton Creek, digital and cable VOD)
Also Opening In Austin
Need For Speed - Based on a video game and hastily post-converted to 3D, there isn't much to recommend for this one except for Aaron Paul, who is inherently watchable in anything. (wide, available locally in 2D, 3D, digital IMAX 3D or D-Box Motion Seating screenings)
Tyler Perry's The Single Mom's Club - Shockingly there were no local press screenings of the latest effort from director Tyler Perry who, wait for it, also stars. Knowing it will play well to its target audience, Oprah didn't wait for box office results. She's already ordered a series adaptation of the movie for her OWN cable network. (wide)