Texas at SXSW 2014: The Shorts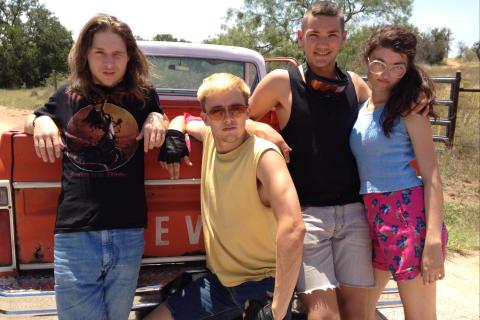 Elizabeth filled us in on the Austin and Texas feature films that are going to be playing at this year's SXSW Film Festival. In an effort to keep you in the loop, as well as to proudly support our local filmmakers, we here at Slackerwood bring you the Lone Star short films that are playing in the 2014 film lineup. Most but not all are in the Texas Shorts block.
Texas Shorts
Dig -- Fellow contributor Debbie Cerda got to check out this film (her review), which premiered at Sundance last month. This is the directorial debut of Dallas-area producer Toby Halbrooks, and was produced by DFW-based production company Sailor Bear. The film stars the very adorable Mallory Mahoney as Jenny, a young girl who is intrigued by the hole her father (Austin actor Jonny Mars) is digging in their backyard.
Easy -- Dallas filmmaker Daniel Laabs brings us a short that follows two brothers who are on the verge of different stages of adulthood. His last film, 8, won the Grand Jury Prize for short films at SXSW 2011. This is Laabs' fifth piece as a director, with Austin's own Ashland Viscosi on board as a producer. Texas Theatre co-owner Adam Donaghey produced this as well as I Was A Teenage Girl.
I Was A Teenage Girl -- Dallas filmmaker Augustine Frizzell has also acted in films such as the feature Hellion (with Jonny Mars) and Ain't Them Bodies Saints (produced by Sailor Bear). The short film, written and directed by Frizzell, is about an intense conversation between two close friends after one of them breaks up with her boyfriend. One fun fact I also discovered is that her daughter, Atheena, plays one of the girls.
Molly -- Local writer/director Craig Elrod returns to SXSW with his latest short film about a guy who deals with a recent breakup from his girlfriend, Molly. His last short, Roosevelt's Big Deal, played at SXSW 2011, while his feature film The Man From Orlando premiered at the Lone Star Film Festival in 2012. Elrod once again teams up with his producing partner Michael Bartnett, with the cast including The Man from Orlando actors Byron Brown and Jason Newman.
One Armed Man -- Houston native Tim Guinee makes his directorial debut with this short. Based on the dark drama by Horton Foote, the film follows a wealthy cotton gin owner who is confronted by a former employee, demanding back the arm that he lost in the gin's machinery. The film was produced by the late Philip Seymour Hoffman.
Road Kill Zoo (pictured at top) -- Local writer/director Bradley Beesley (The Fearless Freaks, Sweethearts of the Prison Rodeo) returns to SXSW with this short film about a gang of nomadic, parentless teenagers as they practice the art of grifting.
Midnight Shorts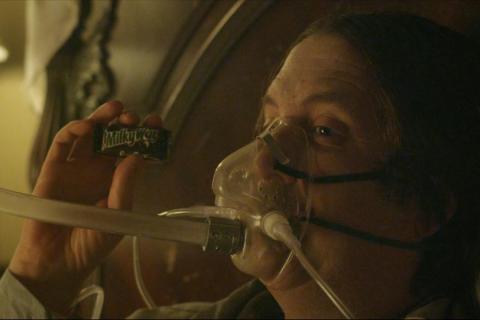 Rat Pack Rat (pictured above) -- Another Texas short that premiered at Sundance (Debbie's review), Rat Pack Rat follows a Sammy Davis Jr. impersonator as he visits a loyal Rat Pack fan on his deathbed. The onscreen combination of Steve Little and Eddie Rouse is enough to drive someone to the badge line, not to mention that it's produced by a handful of local filmmakers such as Clay Liford and Zack Carlson.
The Texas Shorts will premiere on Friday, March 7 at 7 pm at the Marchesa (you can see other screening times here). The Midnight Shorts premiere on Saturday, March 8 at 10 pm at the Rollins Theatre (additional screening times here).
But these aren't all the Lone Star shorts you can see at SXSW. The Texas High School Shorts will premiere on Saturday, March 8 at 4:30 pm at the Marchesa. And the Austin Film Society ShortCase, featuring shorts from AFS members, will screen on Saturday, March 8 at 2 pm at the Marchesa and is free and open to the public. Look for our preview of the ShortCase after the lineup is announced.
If we missed an Austin or Texas short screening at SXSW and you know about it, please let us know and we'll update our listing.