SXSW Announces 2014 Midnight Features and Shorts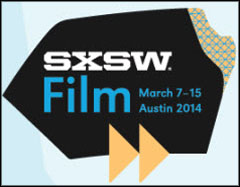 The SXSW 2014 Film Festival and Conference released their feature film lineup last week, and have now let audiences in on what the lineup will be for their Midnight Features and Short Film selections.
As someone who has never attended the Midnight Film Series before, quite a few titles and descriptions caught my attention. Stage Fright from Jerome Sable (which was just picked up for distribution by Magnet) promises to be a combination of "Scream meets Glee" in a genre-bending horror musical. Home from Nicholas McCarthy is described as being about a realtor trying to sell a home where a teenage girl sold her soul to the devil. Naya Rivera leads the cast, although I must say I was sad to see she wasn't in the Glee/Scream fusion. Both films are world premieres.
Another film that caught our attention here at Slackerwood is The Guest, from director Adam Wingard and screenwriter Simon Barrett. Their previous film, You're Next, screened at 2011's Fantastic Fest, and later at the 2013 SXSW Film Fest. Based on the reception and raving audience reviews of that movie, we're sure their latest work will be at the top of a lot of filmgoers' lists.
SXSW Producer and Senior Programmer Jarod Neece expressed his excitement about their provocative, after-dark features lineup. From the press release: "What an amazing year for genre film! We were blown away by the quality of work submitted and narrowing them down was no easy task. We have first-time filmmakers, female filmmakers, SXSW veterans and genre filmmaking legends -- all hoping to scare the crap out of you in the wee hours of the night."
The short film lineup proves to also be no less in hype and anticipation. Baby Mary, about an 8-year-old girl who finds an abandoned toddler, promises to deliver some heart in the Narrative Shorts category. The short is from filmmaker Kris Swanberg, married to SXSW veteran Joe Swanberg (Drinking Buddies, Hannah Takes The Stairs). Rat Pack Rat will be playing the Midnight Shorts category, hot off its playing at this past Sundance Film Fest. The film is directed by now-Austinite Todd Rohal, and was produced by Austin filmmaker Clay Liford.
The Texas Shorts look incredibly promising, featuring such shorts as another Sundance favorite Dig (Debbie's preview), as well as Road Kill Zoo from SXSW vet Bradley Beesley. The Texas High School Shorts section also caught our eye, particularly the film description for Unicorn Council: "a stopmotion short about an evil man-eating cat and the space unicorns that work to save the day. The saviors of the universe have horns and attitudes" -- how is there not something for everyone at this fest? (Props to whoever wrote that awesome slug, by the way.)
SXSW Shorts Programmer and Operations Manager Claudette Godfrey also shared her excitement about the lineup in the press release: "We received a record number of short film submissions this season so my job was tougher than ever. Though they vary in theme, scope, and feeling, the films of the 2014 shorts program all create a palpable tension. I know our audience will be on the edge of their seat, waiting, anticipating, surprised and inspired by the unique and creative ways these filmmakers explore communication, boredom, culture and existence."
SXSW Film Festival takes place from March 7-15 here in Austin. You can view the full lineup of films here.