Slamdance Review: Copenhagen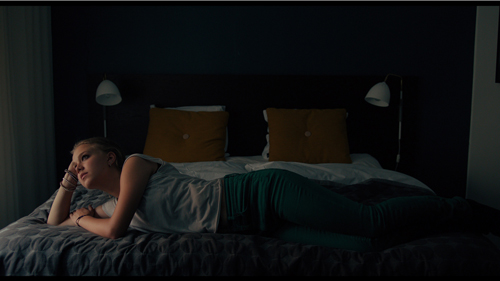 The Slamdance Film Festival tends to be overshadowed and thus overlooked by its larger concurrent counterpart, which is a shame due to the quality independent programming that takes place on the two screens at Treasure Mountain Inn in Park City.
This year was no exception, with writer/director Mark Raso leading the charge with the artistic storytelling of coming of age with his Slamdance Audience award-winning narrative feature, Copenhagen.
At first glance one might think this story transcends locale, but Raso's unique twists affirm the selection of Denmark's capital for the setting. The colorful facades of the 17th-century buildings and deep canals of the Nyhavn district serve as the background of a lushly told story of young love and personal redemption for its main characters, Will (Gethin Anthony) and Effy (Frederikke Dahl Hansen).
Will is on an excursion across Europe with his best friend Jeremy (Sebastian Armesto) and the less-welcome Jennifer, Jeremy's girlfriend. When Jeremy is put in the uncomfortable position of having to choose between Will and Jennifer, Will's immature behavior along with Jennifer's subjugation forces Jeremy's decision. Will is left behind in Copenhagen, consoling himself in the bottom of shot glasses and in bed with eager single women.
Compounding Will's despondency is that this was more than just a "guys trip" -- he has also desired for over ten years to seek out his paternal relatives to understand his father's own emotional distance from his son. Will meets the younger Effy, who is interning in the hotel where Will is staying. Her natural charm and enthusiasm to help Will discover the truth about his family brings the pair together, armed with a handful of photos of Will's father as a young boy.
Well-crafted twists to both Will's personal story as well as Effy's maturity drive this atypical romantic story. Without revealing spoilers, the best way that I find to summarize the intent of Copenhagen is "age does not equate to maturity." Despite being forced into a maturity beyond her age due to her home life and the role model of her single mother, Effy must embrace her youth. Meanwhile Will must learn to accept his father's abandonment and become a man in his own right.
The casting of Copenhagen is phenomenal, with incredible chemistry between the main characters. Anthony's range of expressions and emotions demonstrate his versatility as an emerging talent well worth watching. Hansen may be an untrained actress in her first international and English-speaking film, but her natural talent and abstract approach also make her noteworthy. Hansen has been nominated twice for a Bodil Award -- the major Danish film award given by Denmark's National Association of Film Critics -- and won the Best Actress in a Supporting Role in 2013 for the film You and Me Forever.
Copenhagen is a well-constructed film, with thoughtful production design by Peter De Neergaard and well-suited mise en scene shots by Alan Poon. Just as we see the photographs around Copenhagen, Russo's camera captures the colorful landscape of Denmark and portraits of its characters -- Will framed on a doorstep, Effy lounging seductively on a bed. The use of lighting conveys much of the tone and emotion of this film as well.
The music is also worth mentioning, at times serving as a catalyst for both its characters and the audience. Raso adamantly selected music that was representative of the setting of Copenhagen. He revealed during the Q&A and our interview that he didn't know what the translations were for all the music selections, but that the tone set was more important.
Raso also takes on a couple of taboo subjects in Copenhagen that I won't reveal here. However, Raso's approach is both tasteful and thought provoking, leaving the audience comfortable with and supportive of the decisions made by the film's protagonists.
The only complaint that I have with this engaging and thought-provoking film is that the promotional materials provided both online and to media reveal too much of the story. If you want to find out just enough about the lovely story of Copenhagen, watch the trailer below.
Don't miss Copenhagen if it makes it to a festival or theater near you. Check back for news on distribution as well as my interview with writer/director Raso and stars Gethin Anthony and Frederikke Dahl Hansen.