Movies This Week: Lemon Trees, Hangovers and Pride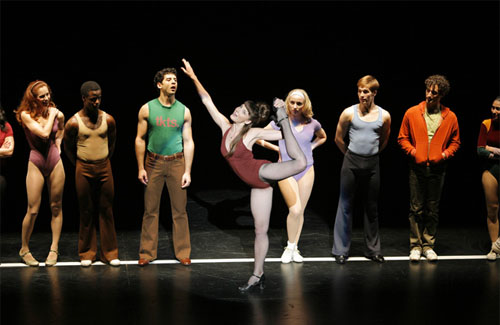 Six new movies open this week, and there's something for just about everyone. That's not including all 15 other special screenings (and that's not breaking down all the Paramount movies into separate events).
Arthouse-wise, Lemon Tree is opening at the Dobie. The film stars Hiam Abbass (The Visitor) as a Palestinian widow whose new neighbor, the Israeli Defense Minister, threatens to destroy her lemon grove. Directed and co-written by Eran Riklis (The Syrian Bride), it's likely going to be funny and heartbreaking.
The Arbor has Every Little Step opening (pictured above), a documentary about auditions for a revival of the legendary musical A Chorus Line. Considering that it's about auditions for a musical, references to life imitating art imitating life must abound.
Interestingly, A Chorus Line is referenced in the modernized film re-imagining of Land of the Lost, which also opens today. Despite the thoroughly enjoyable pre-film events and goodies at Austin's sneak peek earlier this week, it's a typical Will Ferrell film. I remember watching the original series as a kid, and the new film seems to have few connections to the source material, despite the Krofft brothers producing this latest incarnation.
As Arthouse Cowboy Moises Chiullan said, when the lights came up after the Land of the Lost screening, it's like Will Ferrell and Danny McBride hijacked a kid's movie. McBride is still growing on me, but the film helped me define why I'm not a Ferrell fan: he relies on stage techniques that would work well with a live audience, such as an SNL crowd, but it doesn't work well on film (at least for me). McBride, on the other hand, plays so straight it makes me wonder how similar he is to the characters he plays. Anna Friel seems to be sleepwalking through her role for the most part, although I actually enjoyed the boob gag scene, which plays with surprisingly complex character revelations. Ultimately, it's a Will Ferrell vehicle.
Also opening this weekend is the latest Vegas/bachelor party comedy, The Hangover. The reviews are mixed, but apparently people can't stop talking about Zach Galifianakis (The Comedians of Comedy, Super High Me). One of the theaters playing it in Austin is Alamo Ritz, which has a bar, and therefore seems the most logical place to see a film with a morning after that involves a tiger in the bathroom and a strange baby.
If something a little more girly and Greek is to your liking, Nia Vardalos' latest film, My Life in Ruins, opens today as well. This time, she's just the star, not the writer. I admit I'm a bit wary, as it's directed by Donald Petrie (Just My Luck, Welcome to Mooseport), but Vardalos is charming, so I'll probably be checking it out this weekend. The sneak conflicted with the Land of the Lost event, so I haven't seen it yet. Jette?
[Interruption from Jette: I did see My Life in Ruins -- check out my review on Cinematical -- and found it pretty snoozerific. See Drag Me to Hell instead.]
The last film opening this weekend is the most intriguing. After Last Season, which has had no publicity that I've seen, is playing exclusively in the Austin area at the Cinemark Tinseltown. The trailer is unusual, and has been getting some attention on the web. It seems similar to Primer, with some science (or psuedo-science) components, and an even smaller budget (and lower production values). I'm half tempted to hike over there just to see it, especially since that's not exactly the theatre known by Austin cinephiles for avant garde films.
And now to the day-by-day details for this week's special film events and series of note ...
Friday 6/5
This weekend is Austin Gay Pride, so a lot of activities are going on. The Paramount is hosting the The Majestic Party, which includes a screening of The Adventures of Priscilla, Queen of the Desert, along with a dance party and costume contest, starting at 7:15 pm.
Saturday 6/6
Amazingly enough, no special movie events scheduled for Saturday in Austin, which makes it a good night for seeing ordinary screenings. However, the Texandance International Film Festival will be going on in New Braunfels all weekend, and Jette will check it out on Saturday night.
Sunday 6/7
Silent film classic Metropolis is screening with a live score by Golden Hornet Project on Sunday (4:00 pm & 7:15 pm at Alamo Lamar).
Paramount's Summer Film Series continues with Pride-themed films: La Cage Aux Folles (3:00 pm & 7:20 pm) and The Adventures of Priscilla, Queen of the Desert.
Monday 6/8
Music Monday at the Alamo (10:35 pm, $2) is playing The Last Waltz, which many people consider the best concert film of all time, and a great film of any kind. Directed by Scorsese, and featuring world-class cinematographers, it's a film any music fan or film fan should see. Tom Waits' Big Time was scheduled to play, but the print was badly damaged. The Last Waltz is more than an apt substitute.
Tuesday 6/9
The AFS current Essential Cinema Series, "Steppes, Mountains, and Cities: Films of Asia," continues with A Peck on the Cheek. It's not uncommon for these to sell out, so reserve your tickets online. Free for AFS members, or $4 at the door.
Austin Public Library is continuing the Goran Bregovic Film Series with Arizona Dream.
The Paramount Summer Film Series continues with City Lights (7:00 pm) followed by Modern Times (9:00 pm).
Terror Tuesday (10:15pm, Alamo Ritz) is showing Pieces, a film that is likely to offend and disgust, which makes it a terror theme in and of itself. Zack's write-up includes nudity, sex, maniac, and a patchwork rag doll of female parts. So this might not be for everyone. But it'll probably be fun and beer-bucket worthy. Consider ordering your tickets online, as the price increase hasn't deterred attendance in the least.
Wednesday 6/10
Austin Film Festival's "Made in Texas" film series continues with the cult classic Blood Simple, which put the Coen brothers on the cinematic map, with a 35mm print at Bob Bullock Texas Spirit Theater (7:30 pm).
The AFS Documentary Tour is screening Forbidden Lies about the international literary scandal surrounding author Norma Khouri (7:00 pm, Alamo Ritz).
The Paramount Summer Film Series continues with City Lights and Modern Times, but reversed order from Tuesday (7 & 9 pm).
The Rolling Roadshow partners with 101X for a free screening of Raiders of the Lost Ark at Central Park next to Central Market North starting at 8:30 pm.
Weird Wednesday is showing Dynamite Brothers, "another cross-genre hybrid from economy conscious auteur Al Adamson," according to Lars (Alamo Ritz, $1, 11:59 pm)
Thursday 6/11
You can see Federico Fellini's classic 8 1/2 at Laguna Gloria, thanks to Austin Museum of Art and Alamo's Rolling Roadshow. I can't think of a better place in town to watch any Fellini movie. AMOA members get a discount on ticket price.
Ladies of the 80's sing-along continues at the Alamo Ritz (9:45 pm, $12). If you can't make it this Thursday, it's playing the next two Thursdays as well.
Nueva Onda's next edition of Movie Nights features a selection of shorts with the theme "Escape Routes," and may have a filmmaker Q&A. Selections include The Aviatrix from local filmmaker Toddy Burton, Breezeway, and Nathan and David Zellner's Quasar Hernandez. Movie Nights are free and start at 8 pm on the Nueva Onda patio.
The next installment of the Goran Bregovic Film Series is Le Reine Margot.
The Paramount Summer Film Series moves on to Breakfast at Tiffany's (7:00 pm) and The Way We Were (9:25 pm).