There Ain't No Such Thing as a Free Weird Wednesday Anymore
Two of the best deals in town have been Terror Tuesdays (formerly Thursdays) and Weird Wednesdays at the Alamo Drafthouse, where obscure, rare and just plain strange films have screened for free every week of the year. This month, the Terror and Weird are free no more. But they are still good deals.
Citing rising shipping costs, both events have joined Music Monday in charging $1 per seat. It's $2 if you buy online (those pesky service charges associated with credit card orders). When guest appearances are included, it's $5.
Going from free to fee can make some people cranky. Lars Nilsen, has a brief comment on Weird Wednesday Facebook page about the shipping costs. Zack Carlson, the Terror Tuesday programmer, explains in more detail.
"Lars and I used to just use the same prints from the Alamo's modest film archive, but with both series playing a 35mm film print each week (no DVD's!!!), that's 104 movies a year. And you can imagine that it'd be difficult to provide that many genuinely entertaining films on a constant, non-repeating basis.
"So a year or so ago, we took a leap and along with a humble sponsorship from the local video stores (Vulcan for Terror Tuesday and I Luv Video for Weird Wednesday), we started to bring in film prints from other collectors, archives and even on the occasional case, actual full price studio titles like Point Blank and Howling 2.
"This all led to marked increase in quality of what we showed, and the audiences really seemed to respond ... which was GREAT, but soon the shipping bills started to roll in."
The films with special appearances have a higher ticket price because they help cover airfare and hotel for the guests. If you've ever seen a Q&A, they're usually a lot of fun as well as informative, and with these kinds of films, the special guests are characters worth seeing and hearing in person. Recent guest Clint Howard, an iconic character actor, is a case in point, and considering that even with the $5 ticket price, there was a standby line 30 minutes before start, and every seat was filled well before the intro began.
Clint Howard has a face that most moviegoers recognize easily as his credits on IMDB are nearly 200; he was in town for both Music Monday's Rock'n'Roll High School and EvilSpeak for Terror Tuesday. Having heard Clint talk, I now have a lot more respect for the guy. And I put Ice Cream Man in my Netflix queue.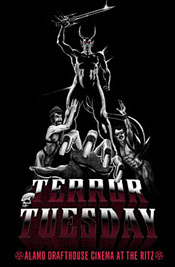 Opening up the selections to other libraries has paid off, too. Considering that the films recently included Kathryn Bigelow's Near Dark, which is worth a full-ticket price just for Bill Paxton's performance, and the 1978 version of Invasion of the Body Snatchers, it's well worth a nominal ticket price. The Evilspeak print arrived straight from the director's own library.
Everyone associated with the original Alamo is a diehard movie geek, and the Alamo's business model is to celebrate movies in the extreme, and it works. But sometimes fans forget it is a business, and there are costs to running a theater.
The door price for Terror Tuesday and Weird Wednesday pays for the films and guests, not salaries. Zack points out that "Lars and I get paid nothing for [either] series, then or now. We just want to make them as powerful as possible for the lowest door price. And we're definitely sticking to the one-dollar price tag for a good long time." Lars adds, "Interestingly, we haven't caught much flak at all. People seem to understand and, after all, it's only a dollar."
Music Mondays have been a $1 ticket for a while now, and Terror Tuesday and Weird Wednesday avoided that very low cost as long as they could. But there ain't no such thing as a free lunch, as the saying goes. And as Zack says, the Alamo "needed to go up to Snickers bar prices rather than keep it free for real live practical reasons."